Protomatic's 3-D Printer Up To 1,000 Times Faster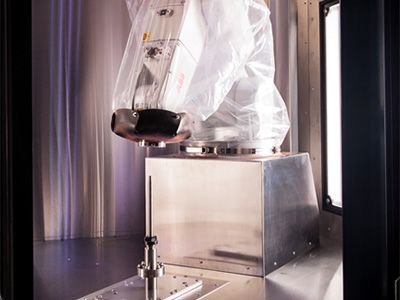 A new CNC cold-spray, metal-additive 3D metal printing machine has arrived at Protomatic and is now in testing and small-scale operation. The machine is the first of its type in the United States. It is manufactured by Australian 3D metal printing company SPEE3D, with direction and training provided by the importer, Kinetic of Ann Arbor, MI.
The revolutionary new technology in the machine enables it to manufacture at 100 to 1,000 times faster than conventional 3D printing technologies.
History
CEO, Byron Kennedy and CTO, Steven Camilleri, have worked together for 15 years. Previously, they spun off a company called In Motion Technologies from Australia's Charles Darwin University. Using their experience in setting up cold spray-based production lines for various electric motor companies, they invented SPEE3D's cold spray technology. The first customer for the LightSPEE3D 3D printer was also Charles Darwin University.
Described as the "world's first fully-integrated cold spray 3D printer," the LightSPEE3D features a 300mm x 300mm build area, customized head on board, a six-axis robot, and does away with the need for expensive inert gases commonly used in metal additive materials.
Technology
The machine basically has four system components. The first is a high-pressure air compressor and dryer designed for continuous 600PSI.
The second component is the nozzle particle delivery system. With the nozzle, high-pressure air is accelerated at "supersonic speed" through a small orifice. This creates an output nozzle velocity of around 1,000 meters per second (Mach 3). The fine metal particles are then precisely injected and warmed for a controlled process temperature. When the particles exit the orifice and hit the surface, the kinetic energy generated causes them to deform and stick, forming the part. This formation  creates a near 100% density and has properties very similar to billet material.
The third system component is the targeting system. The target surface is typically a plate connected to the end of a robot arm. This arm moves along five axes to build a near net-shape part layer by layer, as the molten powder particles hit the substrate-laden build plate (or solid particle layers) and rapidly cool. This process claims the capability to 3D print metals 1,000 times faster than existing technologies. This allows the CNC-based robot to articulate and create the desired shape of the intended part. The part is then removed and the process repeats.
The fourth system component is a recovery dust collector designed to control any residue particle metal, controlling part purity and dust control.
What's Next
Initial works have included prototype parts in copper and aluminum, and various heatsinks, pulleys and lots of tensile test strips to dial in the machine. Programs are also being created to confirm the metallurgical performance, with the assistance of University of Michigan-Dearborn. This basic knowledge will be used to fabricate top quality additive parts. 
Too see a SPEE3D demonstration video, please visit youtu.be/xcFGs29TDxE. If you are interested in a visit to see the machine or in a part quotation, contact Doug Wetzel Doug@protomatic.com, 734-426-3655.

About the author: Doug Wetzel is Vice President and General Manager of Protomatic. Protomatic is a CNC precision machining shop specializing in prototype and short-run production components for the medical, aerospace and other technical industries. Because of the critical nature of the parts they design and manufacture, the emphasis is always on Life-Saving Precision.