Additive or Subtractive Prototyping: Which is Best?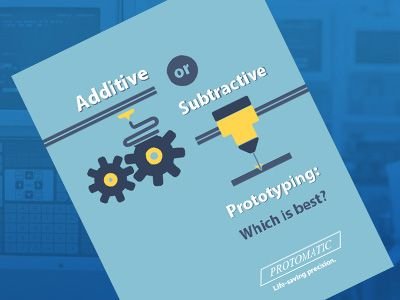 The day has finally come. Your new component design has been approved and now it's time to take it to prototype. But what manufacturing process should you choose?
Subtractive or additive (3D printing) are the two distinctive prototyping and manufacturing methods that are constantly being compared and evaluated.
As companies seek solutions that provide better, faster, more cost-effective ways to produce prototypes and manufacture parts, they find that both technologies have benefits and drawbacks, depending on the application and business criteria.
This e-book from Protomatic — a precision CNC machine shop specializing in prototypes and custom short-run production — explores the pluses and minuses and helps you decide which process is best for you.
Download your e-book and see:
The basic difference between additive and subtractive
How the part complexity and function can be a deciding factor
The role the part material plays in the decision
Which technique is most cost effective
Enjoy your e-book, Additive or Subtractive prototyping: Which is best?
For more information, please contact Doug Wetzel, Protomatic Vice President & General Manager, at 734-426-3655 or doug@protomatic.com.

About the author: Doug Wetzel is Vice President and General Manager of Protomatic. Protomatic is a CNC precision machining shop specializing in prototype and short-run production components for the medical, aerospace and other technical industries. Because of the critical nature of the parts they design and manufacture, the emphasis is always on Life-Saving Precision.