Aerospace Manufacturing with Prototyping Capability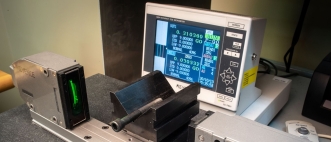 Aerospace parts need to be manufactured with extreme precision to ensure they function the way they're supposed to. There's simply no room for error. Before these parts are put into long-term production, the specifications need to be confirmed through a prototyping process. Protomatic can provide you with prototyped parts that allow you to thoroughly test the parts and identify any issues to be corrected before they cause major problems. With our years of experience and technological capabilities, Protomatic are industry leaders when it comes to prototyping parts for aerospace applications. Read further for more information about how Protomatic can complete your aerospace prototyping projects.
Prototyping with Unmatched Precision
Protomatic has a track record of using CNC machining to complete a wide range of prototyped parts for aerospace applications. We strongly hold the mantra of "life-saving precision," taking extra care to ensure that every detail of your project is covered from start to finish. This is why customers needing aerospace machining have come to trust us to deliver results from the prototyping process all the way through producing finished products. We have experience working with many different materials, so no matter what sort of part you need prototyped, our team can capably test the part for functionality and durability. This means that your parts will be of the highest quality and ready to perform when you receive them.
State-of-the-Art Prototyping Software
Protomatic is equipped with CAD and CAM software that increases our capabilities in creating complex components regardless of shape and size. This makes us your premier source for aerospace parts from the smallest specialty parts to larger components and everything in between. We also perform thorough research about the parts' functionality and how similar parts work, allowing us to anticipate potential issues and formulate solutions before the parts are ever put into use. This makes Protomatic an indispensable partner for all of your aerospace prototyping projects and helps us meet and exceed expectations on every project we undertake.
Protomatic can provide expert services for companies in the beginning phases of aerospace operation or established companies looking for improved services from a new company. We have completed many successful projects for not only aerospace applications, but military components, commercial parts, and more, as well. Give your team peace of mind knowing they will get the reliable parts they need to successfully complete their next project. Contact the experts at Protomatic and let us know how we can assist with your aerospace prototyping project today.