Can CNC Machining Produce a Cosmetic Finish?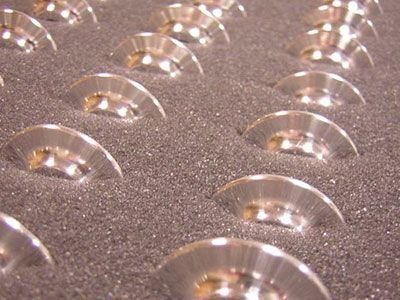 Many companies in the automotive, aerospace and medical industries have learned that even if manufactured parts are highly functional, they still aren't good enough if they are merely average in appearance. For parts that require cosmetic finishes, precision CNC machining with a systematic method is often what's needed.
Let's say you need a high level of finish on a soft material. For this example, a medical grade washer made from 6061-T6 aluminum. It needs to be made from 1.125" OD stock, and the surface finish on the washer face has to meet Ra16 or better after hard-coat anodize.
This is where it gets really interesting. Lightweight, aluminum, washer-shaped parts such as this literally fly like mini flying saucers into the parts catcher. Good luck trying to avoid any nicks or scratches.
Unless.
Unless you work with a precision CNC machining shop well-versed in using a systematic process improvement technique. Protomatic is one of the CNC job shops using such a technique. Following are what's included in Protomatic's process:
Part Design/Process Design — Keep in mind that the final surface finish requirement for an almost mirror-like finish is a Ra16 micro-inch after the hard coat anodize. However, the anodizing will roughen the final finish. So the general rule is to deliver a machined surface finish to the anodizing process of a Ra8 maximum.
Part Material & Hardness — The grade of aluminum is typically consistent throughout the bar stock. However, there are inclusions related to the silicon content. For that reason, it is critical to only purchase aluminum bar stock from very reliable sources with material traceability. Also, since the grade of aluminum required is very soft, it is difficult to achieve a Ra8 micro-finish. So a good chip formulation is required at the cutting edge.
Blank Manufacturing Quality — Micro-finish in this soft material makes it sensitive to bar whip, which is created when an incoming bent bar induces a vibration that is detectable at the main spindle when the bars are long. In this case, there are two solutions: one is to add spindle liners, either metal or urethane, which perform slightly differently; the second solution is to shorten the bar stock because shorter lengths reduce vibration. With less "whipping", there is less vibration transferred to the collet holding the bar stock — ultimately improving the finish. A 24-inch bar length with a urethane spindle liner will suppress the bar whip, enabling machining to the desirable Ra4 surface.
Tool Design & Manufacture — Choose an insert manufacturer to fine-tune the process and help with all the conditions that are available for inserts.  Of course, carbide selection is paramount; geometry, coatings and honed-edge finishes influence the final surface finish. Through experimentation, Protomatic discovered that uncoated and highly honed inset finishes are able to create the best surface finish on 6061-T6 aluminum for this turning application. You'll also want to evaluate different speeds, feeds, edge geometries and edge quality.
Fixture Design & Manufacture — Parts such as the washer in our example lend themselves to be made on either a Hardinge Conquest T42 or a Mazak QTN-200. Both of those machines have automatic bar feeder systems with specially lined part catchers.
Machine Condition Including Coolant Filtration — It is important to consider machine condition for vibration signature, torque and horsepower. Also, coolant selection, flow and filtration all play a part in achieving a beautiful, mirror-like micro-finish.
Gauges & Technique — The functional surfaces of the part are machine vision gauged, hard gauged, and screened for cosmetic flaws. It is recommended that parts be inspected again by quality systems and assembly technicians to achieve the highest quality possible.
Lubricant Chemistry, Condition & Application — Remember that not all machine coolants are the same. For our example product, the coolant needs the proper lubrication, stability, insert compatibility, material compatibility, and of course, human compatibility. Coolants for low-surface-finish CNC cutting range from synthetic oil/water mixtures to a 100% cutting oil. When machined, aluminum places most of the heat in the chip; so synthetic oil/water mixtures are preferred. Evaluations have shown that coolants can easily reduce surface finish from a Ra12 to a Ra6. Whatever the coolant, it is important to make sure they are flushed to prevent lines from clogging with small chips.
The Machinist — The completed part must be free from all nicks and burrs. To control imperfections, all surfaces that the part might contact are softened with dense foam rubber. Each part should be visually inspected by the machine operators, then placed in a foam dunnage with individual cavities.
For parts requiring a cosmetic finish, there are several precision CNC machine shops to choose from. Of course, we would like Protomatic to be considered. We machine soft aluminum parts to a Ra4-6 finish day in and day out — always with total commitment to "Life-Saving Precision."

About the author: Doug Wetzel is Vice President and General Manager of Protomatic. Protomatic is a CNC precision machining shop specializing in prototype and short-run-production components for the medical, aerospace and other technical industries. Because of the critical nature of the parts they design and manufacture, the emphasis is always on Life-Saving Precision.