Composites and Laminates for Prototypes and Production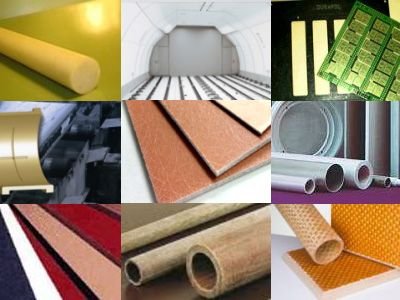 New materials with special properties are being developed every day. However, the  special manufacturing processes required takes time. And while these new developments can be innovative and revolutionary to industry and the consumer, they may be impractical to make into a product when first introduced.
Newly developed materials may also not be cost effective in the long run. Of course, some applications such as aircraft, missile, rockets and satellites require even a small performance edge to become more efficient due to the product requirements, but many applications do not. That's why many products are typically developed based on lowest cost for the desired performance criteria.
When designers and developers can't wait for a new material to come to market, they should consider repurposing some other material for an improved product design. For a review of some of the composites and laminates that are currently on the market, click here. Many were originally designed for a specific need or application, and repurposed for a new and improved performance application. Many were designed for the aerospace industry but could be used in a myriad of other applications.
Repurposed Materials are the Alternative
Many repurposed products have characteristics that provide important benefits. Some examples of these include:
High strength to weight ratio
Fire retardant
Cosmetic surfaces
Machinability
Bonding
Electrical characteristics
Water absorption
Load bearing capacity
Chemical resistance
Impact
Operational thermal range
The good news is that these materials have already been tested, and are now in production and available.
Get to Know FRP
"FRP" stands for "Fiber Reinforced Plastic." This is a general category of materials. It is defined as a composite material made of a polymer matrix reinforced with fibers. The polymer is usually an epoxy, vinyl ester, phenol formaldehyde resin or polyester thermosetting plastic. The fibers are usually glass in the form of fiberglass or carbon fiber, aramid, or basalt.  Other fibers may include paper and wood. Asbestos is no longer used.
What is available?
Click here for a table of some of the more common composites. This is only a partial list and is provided as a reference. The design team will need to investigate to see if this material is appropriate for the application. Many of the aircraft materials are designed for high strength to weight ratios, as well as temperature, cosmetic and fire resistance. Many have special applications like ballistics, signs, filtration, printed circuit board fabrication and manufacturing. Some have applications to support cryogenics and higher temperatures for ovens and electrical applications. The designer has to find the best fit to improve their product.
Protomatic can Help
Protomatic is a CNC machine shop specializing in prototype and short-run CNC parts designed and made with Life-Saving Precision. We work with many of these repurposed materials. If you are interested in developing a new product or enhancing a current product, please do not hesitate to inquire for more information.

About the author: Doug Wetzel is Vice President and General Manager of Protomatic. Protomatic is a CNC precision machining shop specializing in prototype and short-run production components for the medical, aerospace and other technical industries. Because of the critical nature of the parts they design and manufacture, the emphasis is always on Life-Saving Precision.