Does Your CNC Machine Shop Offer Lights-Out Manufacturing?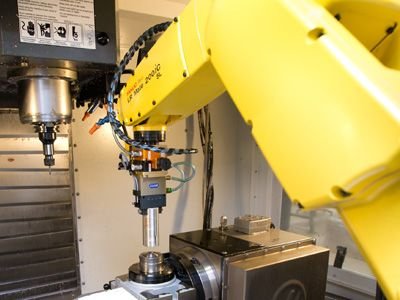 Lights-out manufacturing is the ability to manufacture in an unattended state for an extended period of time. At Protomatic, our definition of "proper lights-out manufacturing" is to be able to manufacture during the week (second and third shift, 16hrs) and over the weekend, with its largest unattended time of 86hrs, from Friday 4:00pm to Tuesday 6:00am (assuming a Monday holiday).
While each CNC shop has its own inventory of equipment, Protomatic uses universal CNC mills for its lights-out manufacturing. These machines can be set up for 3-, 4-, and 5-axis operations. For the lights-out machines, Protomatic then adds a 6-axis robot to perform a "pick and place" operation to handle installation of the raw blank and removal of the finished part.
Turning operations are automated with bar feeders and multi-axis mill-turn machines. These machines are already highly automated from the factory and typically do not require robots to automate, but may be utilized when loading a "slug."
The Biggest Benefit of Lights-Out Manufacturing:
Lights-out manufacturing was developed to simply do one thing, reduce manufacturing cost. There is an incentive to increase automation in order to compete with international labor markets. This has been facilitated by the lower cost of capital, making robots economical and effective even for low- to mid-volume production with the net result of keeping jobs domestically and passing on the savings to the end customer.
Other Advantages When Your CNC Shop Offers Lights-Out:
Lower Cost of Labor
For small-medium manufacturing businesses, labor is typically the major cost center. The focus must be on providing a significant cost savings for the part price, allowing employers to be competitive in the local and international marketplace.
Increased Productivity Requires Less Capital Equipment
The ability to run 3 shifts during the week is a significant advantage, but you can also run on the weekend. Creating close to 24/7 operations with only first shift support can significantly save on the required capital equipment.
More Consistent Parts
This is an added bonus. Since the machine is always running, it remains at a consistent temperature. Machine thermal variations are minimized, making more consistent parts. This is a big plus for high tolerance parts.
Machine Monitoring
To optimize uptime, a machine "auto dialer" (a device that sends a text message that a machine is "down or needs service") is critical. For instance, At Protomatic, we have a VPN to see the machine status with MTConnect. This allows anticipated conditions such as "low material" or cycled "part counts," and can also be beneficial to optimize uptime.
Some Things to Consider:
Part Size and Requirements
Typically, part sizes are limited by the weight that the robot can handle. Also, parts that need a lot of attention are not right for lights-out manufacturing. This could be due to the particular machined material or special features required during the machining operation.
Robots are limited in their flexibility, and are somewhat less flexible than a CNC machine. The end effectors must be designed for each part. (End effectors are the fingers that pick up the parts and may require modification when a job is changed.)
Minimum Volumes
Due to programming time for the CNC, robot and changes to the end effectors, there is a critical need of having a minimum product volume to justify the additional expense. Setup times are high, but may make sense when the overall production is considered.
Additional Labor
Problems can occur and they require additional labor to resolve, so these costs are far from zero. Some of the reasons additional labor may be needed are:
Power Glitch
A brief sag, surge, or interruption of electric power can shut off the machine. This is partly due to the machine safety architecture due to OHSA requirements. This requires an onsite machine reset and restart, thus increasing the overtime labor category.
Safety Policy
A single person creating a machine reset and restart is a significant safety policy area that needs to be addressed. A clear policy must be created and adhered to on what can be done when only a single operator is present.
Dimensional controls
A method of automated measuring and adjustment of machine offset or wear parameters is needed, and is unique to each part. This may require special machine probing options to measure the machined part after machining, and compensating on the next manufactured part. There are two major areas that the dimensional controls have to be able to adjust out – tool wear compensation and machine changes due to environmental temperature variations.
Feature Controls
Confirming that a feature is present may be equally important. If you cannot directly observe or measure a feature, then a tool breakage detector may be utilized. This slows down the overall speed of machining, but it is typically worth the effort.
Temperature Control
A lot of businesses adjust their shop temperature when employees are not present, in an effort to save on HVAC expenses. This may create unintentional part variation between day and night shifts. The best method is to program thermostats for a uniform temperature 24/7. Depending on the dimensional controls and the part tolerance, this may or may not be an issue.
Fire Safety
CNC machines have large power loads. An electrical fire can start with a small short and create havoc. Smoke detectors and other precautions are required.
Once you have decided to go with lights-out manufacturing, the next step is to pick the right CNC shop. To learn more about how Protomatic ensures "Life Saving Precision" in every product we make, please download our free, no-obligation eBook, "How to Choose a Prototyping Machine Shop."

About the author: Doug Wetzel is Vice President and General Manager of Protomatic. Protomatic is a CNC precision machining shop specializing in prototype and short-run production components for the medical, aerospace and other technical industries. Because of the critical nature of the parts they design and manufacture, the emphasis is always on Life-Saving Precision.