Educating (y)our Work Force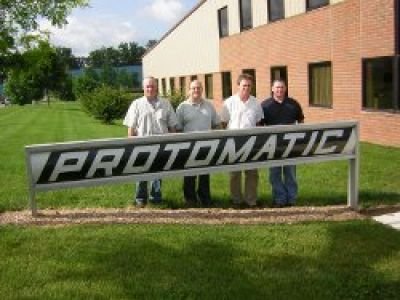 At Protomatic, we feel we are an extension of your company, therefore, it is important to keep our work force current with technology changes.  Protomatic's corporate focus has been investing in our future and we accomplish this goal in many ways.  Our primary focus has been with three  basic categories.  The first focus is capital equipment.  Having the latest tools does indeed make the job easier and faster, creating a competitive edge.  The second is a desire to succeed, striving for perfection in consistency.  This is typically done by improving processes using continual improvement techniques.   The third and most important focus is in education.  This allows for the direction of the company to be obtained and allows talent to succeed.  This month we are highlighting some of the educational programs that we have been working on in 2010.
Programs
Every year we focus on multiple areas which we have identified that need improvement.  This year our survey demonstrated improvement opportunities in three areas.
Sales Diversification
Our first program was with sales diversification.  Creating the corporate message and learning how to explain our capabilities. From this training, our salesmen learned to ask all kinds of questions,  from these inquiries we learn what our customers need. This understanding of your requirements helps us do a better job in manufacturing or designing  your parts and products.   We are truly interested in your success, which will create success for all of us.
More info Contact:
MMTC.org
Geometric Dimensioning and Tolerances
ASME Y14.5-2009
Even the experts need training in the new GD&T standards.  At Protomatic  our  training addressed the specific needs of Engineers, Machinists and Quality Inspectors.   Engineers need to know how to specify GD&T,  Machinists have to understand the best way to manufacture  parts given GD&T specifications, and Quality Inspectors have to know how to access conformity of the dimensional requirements.  Mark Morris of M and M Consulting, LLC created a tailored program to address all of our needs.
More Info Contact:
Mark@MandMconsulting.com
www.MandMconsulting.com
Machining Optimization
With this program we initiated a plant wide kaizen (Japanese for "improvement") event looking at all of the elements of our manufacturing facility.  To guide the kaizen event, we enlisted Gary Rodak of Machining Efficiencies, Inc.  With everything on the table, we identified improvements in many areas, including job descriptions refinements, "5S" techniques, financial procedures, tool wear recognition, order flow, inspection, quality and sales systems.  MEI systematically evaluated the nine elements of manufacturing as an educational opportunity.
More Info Contact:
Gary.Rodak@MachiningEfficiencies.com
www.MachiningEfficiencies.com
Training is Expensive
This year we applied for  partial compensation for some of our internal training with IWT (Incumbent Worker Training, Michigan Works) and  KMW/EDJT (Keep Michigan Working/Economic Develpment Job Training, with MMTC) programs.  Special thanks to these organizations in helping us succeed.