Finding the Right Supplier is Crucial when Manufacturing Technically Difficult Parts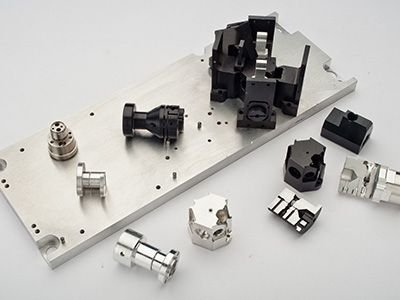 When it comes to manufacturing technically difficult parts, all suppliers aren't the same. Far from it. The tipping point is which supplier has the right tool to make a part with the quality and consistency required. Sure, price is important. But you can't put a price tag on a part that doesn't perform the way it should.
When you're looking for someone to handle that difficult task, a good place to start is Protomatic, a precision CNC machine shop in Dexter, MI.
As Doug Wetzel, Protomatic Operations Manager has said, "In our business, it is not clothes that make the man, it is the tools that make the man. Our success is from our knowledge and how we use our tools."
Do they have the capabilities and tools?
Protomatic has a tremendous list of equipment, including CNC 5 Axis Machining Centers, CNC Turning Centers, and CNC Multi (8) Axis Machining Centers. These are mainstream and operate on the majority of the shop's work.
Protomatic also has very specialized equipment not typically found at a job shop — specialized finishing equipment, such as micro-blast deburring, vibratory, and magnetic tumbling. Microscopes enable the machinists at Protomatic to "see and address" and provide the attention to detail required in critical parts. Other processes include manufacturing rubber molded parts, welding, forming and bending to accent the equipment.
While having the right equipment is critical, there are other areas that also need to be addressed when evaluating a supplier.
Are they experienced in what the job requires?
Purchasing custom parts from job shops is no easy task. There are a lot of risks when selecting a supplier. You'll want to be sure the supplier knows what is required, and has the capability and capacity to do it. Knowledge of the industry and ease of communication are always a plus.
Are they aware of needed licenses, validations, etc.?
All industries have special requirements and specific needs. Some industries require an ITAR license, conflict minerals controls, ROHS controls, counterfeit material control, or ISO requirements. But, there are also process-based specific requirements, such as Process Validations (IQ, OQ, PQ & DQ Protocols), material and NADCAP process traceability, design support, or simply laser part marking or a nitrogen purge Bag &Tag. These programs are all available at Protomatic.
Do they have the capacity and infrastructure to manufacture and inspect?
If you ask engineers, machinists and inspectors, "What is the largest technical problem that will be experienced in the next 5-10 years," many would say speed and accuracy of inspection. Inspection instruments are expensive and all have limitations. While CMM inspection machines are very capable, the demand for flawless parts requires even better and faster inspection technology. In most applications, critical features have to be inspected at 100% sampling size. This creates cost, especially when more time is spent inspecting parts than manufacturing them. To be as efficient as possible, Protomatic uses many types of inspection devices including XRF to confirm raw material alloys, and tally surf to measure surface roughness. Also, to measure part quality, optical comparators, vision systems, laser micrometers, optical/3D microscopes and CMMs are all utilized.
What about industry recognition?
Protomatic is committed to providing excellence to our customers. Recently, we have won several awards in recognition of that commitment: The InnoState Innovation Realization Firm in 2013; the BD Small Supplier of the Year award for 2014. And most recently, Modern Machine Shop named Protomatic one of the Top Shops for 2015.
Bottom line
Capabilities, capacity and dedication to excellence are extremely important when choosing a manufacturing supplier. With its ongoing commitment to "Life-Saving Precision", Protomatic has the tools, talent and processes in place to provide components of the highest quality — and to continue earning the confidence of customers spanning a wide variety of industries.

About the author: Doug Wetzel is Vice President and General Manager of Protomatic. Protomatic is a CNC precision machining shop specializing in prototype and short-run production components for the medical, aerospace and other technical industries. Because of the critical nature of the parts they design and manufacture, the emphasis is always on Life-Saving Precision.