Get Prototyping Services for Professional Aerospace Manufacturing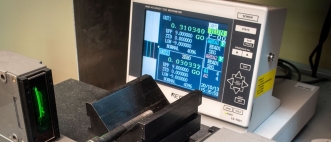 By prototyping parts for new products in the aerospace industry or other industries, you can test parts for functionality before starting long-term production runs. When you need a new part prototyped for your business, you need to work with a company with a successful track record for consistency and quality. Protomatic has the experience and capability to create your prototyped parts with a high standard of quality and attention to detail. For more information about how Protomatic can prototype a new part for an aerospace project or projects in other industries, please read further.
Production with Unmatched Precision
Protomatic approaches all prototyping and manufacturing jobs with a mantra of "life-saving precision." No matter what sort of products you need prototyped, you can count on the professionals at Protomatic to address the project with careful attention to detail from the initial planning phases until the final testing phases. Because of our experience in the aerospace industry, we have built and maintained a stellar reputation for the quality of our work. This is why so many clients in so many different fields depend on us to prototype parts to ensure the best possible performance. No matter what sort of materials need to be used to create these prototypes, we will make sure they function properly and stand up to the wear and tear of normal use.
We Have Prototype Software to Meet Your Needs
Protomatic uses state-of-the-art CAD and CAM software to ensure a high level of precision when we create different prototyped components, no matter what shape or size you need for your applications. Whether you need smaller specialty parts or larger components, you can count on our team to address your needs with a proven creation process that provides reliable results. We can even troubleshoot and make changes if needed to improve the performance of your parts. Because our software is capable of meeting the strict standards of the aerospace industry, you can rest assured that we can create effective prototyped parts for just about any industry.
No matter the size or scope of your operation, you can count on Protomatic to use state-of-the-art equipment to complete your prototyping or machining with a high standard of quality that few businesses can match. From traditional construction to military and aerospace components, Protomatic has the equipment and knowhow to complete the work you need for effective short-term or long-term production runs. We are eager to get to work on your next project, so contact us today and let us know how we can assist you.