Get Quality Custom Parts from Our Machine Shop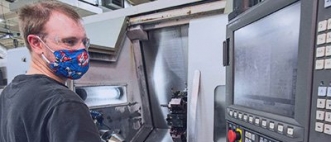 Protomatic offers CNC machine shop services and custom parts for Aerospace, Medical, and many other industries. We have the equipment and experience to take any idea you have and bring it to life. We can handle everything from transforming a simple sketch into a digital design to contract manufacturing parts or components with a high standard of quality. In today's post, we will discuss the many benefits of choosing Protomatic for all of your custom machining needs.
We Serve Many Different Industries
With in-house capabilities for drafting, production, prototyping, and assembly of custom parts and systems, Protomatic is fully-equipped to handle parts production for many different industries. We have completed work in the aerospace, defense, medical, and automotive industries, with prototyping services available for each of them. We complete every project with a strict attention to detail and high standard of quality, ensuring that you get the precision you need for premium performance with critical and hard-to-manufacture components.
We Can Handle Your Prototyping Needs
Protomatic has computer-aided design (CAD) and computer-aided manufacturing (CAM) equipment that allows us to create prototypes made to your exact specifications, right down to the appropriate material properties and surface finishes. This means that you can inspect and test parts, making any necessary design changes before the parts go into long-term production. This saves you time, money, and more importantly, headaches dealing with defective parts.
We Can Make Parts for Vintage Automobiles
If you love vintage automobiles the way we do, then we are here to help with any of your vintage part needs. We understand these passion projects, so we can use our CAD/CAM system to reverse engineer custom vintage parts for cars or other types of vintage machinery for a successful restoration project. We'd love to hear about your vintage project, so contact us and let us know how we can help!
Our Experience Gives Us the Edge
Our team of engineers and machinists is dedicated to helping bring your vision to life. With our many years of experience, we have the ability to quickly produce the parts you need with the highest standard of quality in the industry as quickly as possible to ensure that your business stays on schedule and within budget.
If you are in the market for a reliable source for high quality CAD/CAM produced parts and components for your business, Protomatic has the tools and expertise to handle all of your needs. Contact us and let us know how we can assist you today!