Get the Most Out of Your Capital Equipment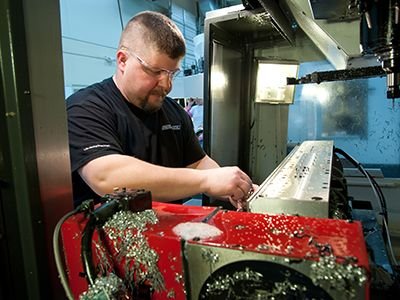 For capital-intensive businesses such as a CNC job shop, staying up to date on equipment is critical to success. Knowing about or finding the right tool for the job is crucial to cost, quality and delivery.
With that in mind, all employees would love to work at the company that has the latest technology. But that could require higher effective hourly rates, or fees that customers don't want to pay. So, it's a luxury most businesses cannot afford.
Having options for finding a practical solution that optimizes the cost of capital is paramount to successful manufacturing. Here are some to consider:
Used Equipment
Procuring used equipment is one of the cost-effective solutions and includes purchasing equipment by private treaty or at an auction.However, equipment auctions are a risky environment. Simple things like "bidders frenzy" sometimes drives the price too high. I have seen people buy equipment for an even higher price than new equipment.In some instances, buying used equipment for more than the cost of new made sense. Long equipment lead times or special options on equipment may have justified it. But in recent years, there has been an abundance of used equipment, so this is no longer the case.

Most used equipment is sold "as is." That means a purchase with no warranty or support from the manufacturer. This is especially important when new employee training is an issue for most businesses.

It means "the buyer" is responsible for rebuilding or repairing the equipment, plus trying to train new employees. It works for duplicate equipment, but is more difficult for the first-time purchase of a new type of equipment.
New Equipment
In many ways, new equipment is the most practical approach. New equipment has a product warranty, high reliability, and improved technology. Productivity is increased, risk is lowered, and product training support is available. Typically, "new" is more expensive than "used," but the manufacturing support may mean a shorter ramp-up to production and productivity.
Maintaining & Upgrading Technology
Another philosophy is keep what you have, and keep your equipment running well. At Protomatic, we know we cannot buy new machines all the time, so we perform manufacturer's recommended maintenance to keep everything in tiptop shape. We have an extensive maintenance program focused on keeping the highest "up time". But we know that machines do break unexpectedly, so we have a small store of commonly replaced parts.Wear and tear is "light" for our machines that generally only run one shift.  But we do run at high traverse speeds and high spindle RPMS.A 12K RPM spindle with 30+ HP definitely has some potential energy. Compounding it with a 1200+ inches per minute (IPM) traverse rate makes some of the technology just downright scary.
Maintenance Schedules Aren't Enough
We have found that keeping up with the suggested factory maintenance schedule is important, but not the only indicator. Personnel experience and training can greatly improve the preventative program.Just like your personal car, when a new sound occurs or an engine light turns on, something needs attention. In the shop, employees need to investigate or ask for help when there is a new condition. Employees do a great job on critical feedback, checking oil, grease, coolant levels and filter conditions daily. This is important to getting the longest life out of any type of equipment.
A Validation Process
At Protomatic, to optimize equipment life, all new equipment goes through a validation process. The validation process is directly connected to maintenance. One of the first steps is an IQ (Installation Qualification). This is a machine benchmark typically done when the equipment is new.Test environments are measured, such as machine levelness, environmental temperature, bearing temperature, electrical voltage, air pressure, squareness/tram, circularity, positional accuracy (Ball Bar or other instruments) as well as other parameters that are unique to the machine. This creates a benchmark defining the operational conditions for the machine.The next phase is when a machine is in the OQ (Operational Qualification). The parameters of the program are qualified, allowing us to optimize the process and standardize the CNC program. Product is verified with calibrated equipment that has been through an R&R process, PFEMA, control plan and other supporting process documents.

Once operational, the PQ (Process Qualification) takes over and the part variations are monitored.  This allows for control limits for the process based on the machine performance, measurement performance, and engineering requirements.
Interconnectivity Through ISO Systems
ISO systems are definitely showing the interconnection between maintenance, validation and product performance. Having this strong inter-reliance on different systems helps make a more robust system and reliably produce better quality parts.
Protomatic is an ISO-9001:2015 and ISO-13485:2016 registered company. It is our commitment to maintaining the highest standards of production that leads to "Life-Saving Precision."
For more information about the machines used by Protomatic and how we bring the highest quality to our customers, please contact Doug Wetzel, Vice President & General Manager, at Doug@Protomatic.com or 734-426-3655.

About the author: Doug Wetzel is Vice President and General Manager of Protomatic. Protomatic is a CNC precision machining shop specializing in prototype and short-run production components for the medical, aerospace and other technical industries. Because of the critical nature of the parts they design and manufacture, the emphasis is always on Life-Saving Precision.