Haas VF2-SSYT VMC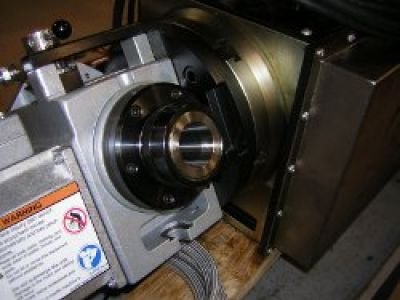 Wow, the snow is just starting to fly at Protomatic, but our snow is from our new Haas CNC Vertical Machining Center (VMC).  In some our machining operations it literally looks like snow, as the chips fly off our aggressive billet machining operations.   The one that looks like snow the most is white Delrin (plastic), but aircraft grade aluminum and titanium are a close second. We wanted to share with you some of the features of the new machine and wish you all a Happy New Year!
Haas VF-2SSYT Vertical Milling Center
Side of machine showing a flood covered part, with snow, or maybe more accurately "slush"
Flashlight Control
The Remote Jog Handle has a flashlight and magnifying lens for close work (not shown).
T5C Axis Rotary Table
Designed for small part applications requiring precision 5 Axis parts.  This single cavity collet style 5 axis rotary table can be correction mapped to 1 arc second in both A and B axes.
New Addition
Protomatic has recently added a Haas 5 Axis CNC milling machine to support the growing demand.
Principally focused on medical and aerospace parts, Protomatic offers additional high speed and  precision CNC Milling and Turning for your applications.
Haas VF-2SSYT
Vertical Milling Center (VMC)
This recent addition is a  new VMC that is  based on the shop-proven  Haas VF platform.  These machines have a  30″ x 20″ x 20″ (762 x 508 x 508 mm) travel.  This upgraded model called the VF-2 Super Speed Vertical Machining Center comes standard with a 30 hp (22.4 kW) vector drive 12,000-rpm inline direct-drive spindle, an ultra-fast tool changer, 1400 ipm (35.6 m/min) rapids, 40+1 Side Mount Tool Changer, 5 Axis, Programmable Coolant Nozzle, High Speed Machining option with look ahead,   Ethernet I/O, Glass Scales for high positional accuracy, Robot Ready interface with Servo Auto Doors, spare M functions, and Through Coolant Spindle. Plus all of the standard options, even a built in flashlight on the Remote Jog Handle.
We are Excited!
Yes, we are excited about this new CNC Vertical Mill.  This machine runs smoother, creates less vibration leaving a better finish on parts. The high pressure coolant pump reduces heat which results in better tolerance control. The smooth running machine makes less noise creating comfortable working conditions.