Hot topics at IMTS: Trained labor, aging equipment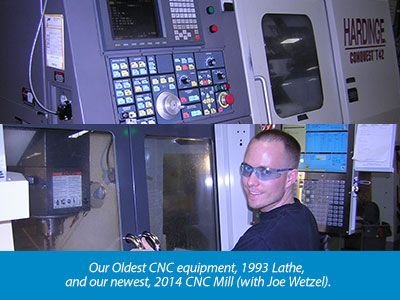 The Protomatic staff has returned from the International Manufacturing Technology Show (IMTS) with valuable insights on the direction of the manufacturing market. The observations gained at the show were not only informative, they also confirmed many of our company's plans for the future. Following are three main areas of our focus:

The Business Climate is Improving
Manufacturing businesses in the USA are improving. It was encouraging and invigorating to see IMTS "Show Euphoria" after such a long drought of economic malaise. The buzz of many discussions was about "re-shoring," as many parts are coming back to the USA for manufacturing. OEMs are seeing that extra manufacturing costs are being incurred to difficult communications, miscommunication, special fees, import duties, slow responses to product demands, and higher transportation costs. The economic value in purchasing locally is creating significantly healthier local economies.
There is a Shortage of Trained Labor
There is a trained-labor shortage here in the US and also on the international manufacturing scene. In the US, this may be due to demography, but in China, their "One Child Policy" has created, and will continue to create, labor shortages of talented employees. The discussion at the show confirmed that there is a focus on developing automation to reduce reliance on highly talented workers, who are not often available. This implies utilizing "smart systems" and "software tools" to simplify growing, complex problems. Protomatic realized this some time ago, and provides a positive work environment for employee retention. This includes a combination of ongoing training and providing state-of-the-art tools to employees, right from the start, so they are able to solve complex manufacturing problems.
Equipment is Aging
The aging of manufacturing equipment in the United States was a major topic of conversation at the show, and most everyone was actively shopping for new equipment and tools. The intuitive sense is that the raw machining performance drops 10%-20% for a 10-year-old machine compared to a modern CNC machine, and drops 20%-30% for one 20 years old. These numbers do not include loss due to reliability, or increasing costs to find repair parts for aging computer equipment.
Protomatic keeps a close watch on the productivity and lifespan of its machines. By being consistent with equipment purchases, Protomatic is currently running at an average equipment life of 8.4 years, close to the industry's suggested target average of 7 years. This allows the equipment to hit a 16-year age limit. When our older equipment is averaged with newer equipment, the average is a nearly ideal 8 years.
Equipment survival rate, optimizing ownership with a typical useful life of 16 years.
Time Well Spent
Protomatic didn't make any large investments in equipment at IMTS, but it was well worth the trip. It is important to keep up to date with everything that is happening in the industry and to get an industry-wide perspective on how to best plan for the future.