How We Determine the Right CNC Mill for Your Job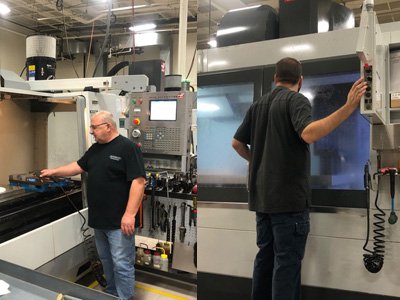 At Protomatic, selecting the right milling and turning machine for your application isn't based on a snap decision. Far from it. Before we begin manufacturing any part, we go through a detailed process to make to make sure the machine and job are the right fit. There are three major factors that go into the machine selection: Size – Complexity – Productivity.
Size
Think of the CNC machine as a tool. For a small application, a mechanic might use a 6 " crescent wrench. But for large bolts, a much larger wrench is required. Or for some jobs a 4 oz. hammer is fine. But to drive a railroad spike, a sledgehammer is needed. Likewise, CNC equipment is sized to for the job.
When selecting a milling machine for manufacturing cubic or prismatic shaped parts, the primary parameter for selection is the "size."  A small mill has a typical travel size of 30'' in the X-Axis; 20'' in the Y-Axis; and 20'' in the Z- Axis. These values represent the maximum travel of the machine. It can manufacture a slightly smaller part due to the tool diameter or tool reach length.
The tool reach length is a significant limiter. In this example, the machine has a 20" Z-Axis. If the part requires a hole drilling operation, the part height limit is 10'' because the drill will be 10'' long in order to drill through the material. Once the drilling is complete, the drill is withdrawn, and clearance is required for a tool change.
For 4- and 5-axis parts, the calculations are slightly more complex, and the machine limits may be integral-rated as a diameter and Z-Axis limit.  Some 4-axis and 5-axis machines "add on"  tools called Rotary Tables or Trunnions that have diameter and axis limit.
Complexity and Accuracy
Complex and high-accuracy parts that are difficulty to manufacture may require 3-,4-,5- or more axis to produce the part reliably and accurately. When dimensional relationships require precise angles, squareness, parallelism, orthogonally or collinear relationships, we would select a single 5-axis operation versus three separate 3-axis setups. This is because a 5-axis operation will reduce inspection cost by involving only one inspection qualification step. Also, each time a part is placed in a machining setup there is a small placement error. The reference surface, vice clamping pressure, or fasteners may vary slightly, creating an error that may be compounded with multiple setups.
Productivity
Productivity may come in many forms and is unique to the machine and machining operation. Some key productivity areas for a CNC machine are machining feed rates, rapid feed rates, multi-spindles, spindle speed (RPM), and spindle horsepower. Tool change rates all equate to faster material removal. Additionally, productivity monitoring — also called Internet of Things (IoT) or Manufacturing 4.0 — is also important. It provides manufacturing engineers the tools to optimize a process once established.
These systems use status information from the machine utilizing standard protocols such as MTConnect™. They report conditions such as On/Off, In Cycle (running), Idle, or Machine Error via Ethernet. This allows manufacturing engineers to design prototype and production runs that will optimize production "tack times". This optimizes equipment utilization with a goal of running unattended in a "lights out" manufacturing operation.
So what are our sizes?
Our smallest Vertical Machining Center (VMC) has the capability of producing parts in a relatively small Approximate Travel Envelope  (X, Y, Z Axis).
Small Part: VF-0, VF-2,  VF-2SS, or VF2SSYT
Travel Size: 30″ x 16/20″ x 20″
4 Axis: 11″ Dia. x 18″ L
5 Axis: 6″ Dia. x  6″ H
Medium part: VF-3 or VF-4SS
Travel Size: 40/50″ x 20″ x 25″
4 Axis: 12″ Dia. x  30″ L
5 Axis: 12″ Dia. x 11″ H
Large part: VF/VM-6 s
Travel Size: 64″x 32″x 30″
5 Axis: 29″ Dia. x 18″ H
This is a very simplified overview of the selection process that is required at Protomatic, and provides insight into our commitment to Life-Saving Precision in every component we manufacture.
Please contact us directly for further assistance or questions.
Scott Allen, Sales Manager Scotta@protomatic.com
Lori Frantz, Sales Lori@protomatic.com
Doug Wetzel, VP/GM Doug@protomatic.com
Brian Heldt, Program Manager Bheldt@protomatic.com
About the author: Doug Wetzel is Vice President and General Manager of Protomatic. Protomatic is a CNC precision machining shop specializing in prototype and short-run production components for the medical, aerospace, and other technical industries. Because of the critical nature of the parts they design and manufacture, the emphasis is always on Life-Saving Precision.