Improved Inventory Controls meet AS9100 and ISO-13485 Standards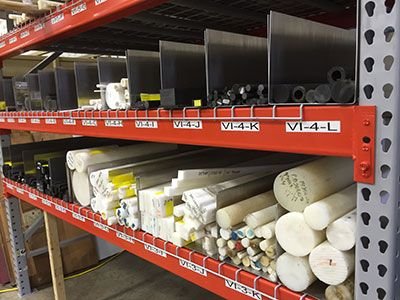 The start of the year is always an exciting time for us here at Protomatic. It's like being presented with a new, blank canvas to paint a picture of our business that's even better and more innovative than the year past.
One of our first strokes of "brilliance" in 2015 is instigating a new stocking system for raw material inventory. OK, It's not the most glamorous creation you every heard of, but it's critically important.
Some of the changes are driven by meeting and exceeding increased requirements for material traceability and vendor controls from the AS9100 and ISO-13485 standards. It's also recognizing an opportunity to better ourselves as a company. We need improved inventory software and new storage racking to support our raw material inventory program. It sounds simple, but those small changes can have profound performance results for the long term.
This project, started in December 2014, will take a number of months to complete, but will bring better organization for years to come. The organization system we are using is based on the 5S Workplace Organization Method – SORT, SET-In-Order, SHINE, STANDARIZE, and SUSTAIN.
Improved Organization utilizing 5S techniques will:
Optimize precious material resources
Double storage volume by moving from 6' racks to 12' racks, which optimizes our floor space
Improve cost control by better monitoring of  inventory
Bring improved safety from increased rack strength
Eliminate double orders of material by utilizing available stock
Allow us to acquire on-hand stock faster
Improve batch, lot and heat control of raw material
Improve material security
Monitor vendors with better cost and lot control
While the current system in place is well controlled and exceeds ISO standards, this program is an enhancement to that system.  For instance, confirmation of incoming metal alloys with X-Ray Fluorescence (XRF) is but one example of our continuing commitment to the highest standards of quality assurance. And it's another way we strive for "Life-saving precision" in everything we do.