In memoriam: Bill Wetzel - Visionary, leader, friend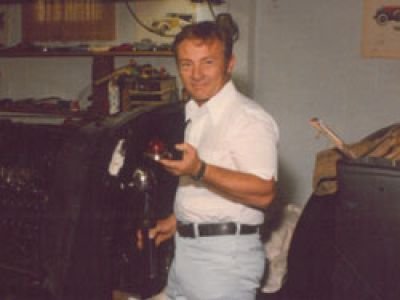 Bill Wetzel, who founded Protomatic and lead it to the forefront of the prototype manufacturing industry, passed away on July 3, 2012. Bill was 78 and lived in Dexter, Michigan. His death was the result of a 7-year battle with lung disease.
From the earliest stages of his career, Bill was an entrepreneur and business developer who could problem-solve and design innovative solutions for virtually any mechanical device or system. That was proven throughout his work on programs as diverse as Nike missiles and cellular antenna mounts for cars.
Bill and his wife Rita started Protomatic in 1971. Always a visionary, he saw the need for a high-quality prototype manufacturer that could go beyond the engineering and development capabilities of the Big 3 auto companies. After identifying high-level prototyping opportunities, he used his aerospace background to begin manufacturing components for automotive and laser technology applications.
Even then he was committed to state-of-the-art techniques. Bill was among the first in the industry to convert from manual machines to CNC, even though it was still in its infancy. In the mid-1970s, he began using NC mill and turning machines; in the early 1980s, he initiated CNC mills and lathes.
Bill's love for technology was further evidenced in the early 1980s when he was at the forefront of the computer age bringing Tandy TRS-80 and IBM-PC computers to Protomatic.
As the automotive landscape in Michigan began to change, Bill, as usual, stayed a step ahead. He guided Protomatic as it became a leader in the development of mission-critical prototypes and short-run parts for the medical and aeronautic industries.
Perhaps his strongest attribute was how Bill never waivered from treating his employees fairly and with respect. It was important to him that their work environment be the best it could be. So he didn't hesitate to continually upgrade lighting, air quality and air conditioning throughout the facility.
Along with being an outstanding engineer, Bill was an avid antique car collector and enthusiast. He won many national awards, highlighted by the 2009 "People's Choice" award at the Meadow Brook Concours d'Elegance show for his 1936 Rolls Royce Phantom III.
Considering his achievements at Protomatic, it's no surprise that within car circles he was known for his meticulous attention to detail.
Bill's creative side was expressed in painting, using multiple mediums including watercolors and acrylics. He was a longtime supporter of the Chelsea Center for the Arts.
Bill retired in 1998, but remained as a consultant. At Protomatic his dedication to new technologies, new capabilities and customer focus remained as strong as ever. The company will continue to carry out his vision under the leadership of his family.
We will all miss not only his leadership and knowledge, but also his warmth, humor and uplifting attitude.