Inspecting Parts Faster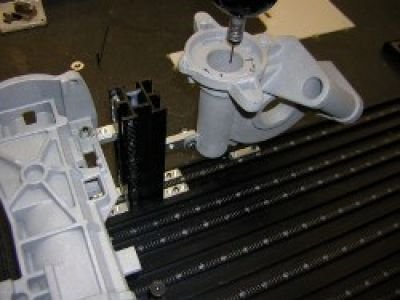 This October we are all very busy at Protomatic meeting our customer's demands.  One way we are achieving this goal is by installing a new Coordinate Measurement Machine (CMM).  Due to several of our customer's increasing need for "documented" inspection, we have expanded our inspection capability to better serve all of our customers.  This month we are highlighting the new Brown & Sharpe CMM which will expand our throughput.
Why Brown & Sharpe?
Protomatic selected a relatively small CMM with a measuring capability of 0.7M x 1.0 M x 0.7M, high accuracy, common probe tips, and compatible, but advanced, software. This commonality facilitates minimal to no programming changes between CMMs, enabling us to quickly and efficiently service our customers.
Probes
The selected Brown & Sharpe Global Performance 7107 CMM includes proven technology that utilizes a Renishaw PH10MQ with a 5-axis motorized probe head. The Probe is the common TP20 unit with a magnetic kinematic mount that is easily adapted to the MCR20 Changing Rack and provides MPEe accuracy of 1.9uM +3.0L/1000 under standard operating temperatures (65-72F). This means that the linear error is relatively small equating to an  uncertainty of  0.0002" inches per 39.37" (meter).
Common & Expanded Software
The new system utilizes PCDIMS CAD++ software and is common to Protomatic's other Brown & Sharpe CMM.  This includes the premium package allowing scanning and new sheet metal functions.  The additional software modules called Datapage+ (Database management, SPC software with customizable Inspection Sample Warrants (ISW) reporting tools), Autopath (CNC like  measurement utility), and Autoview (part geometry graphical inspection print out), offer a quicker more visual understanding of the part variations.
Why tell you this?
After examining our customer's current and future needs, we determined that part documentation and traceability will be as important as part quality.  We were also experiencing throughput issues due to increased volumes.  This new CMM will decrease our delivery lead times thereby enabling us to better serve our customers.