LNS Bar Feeder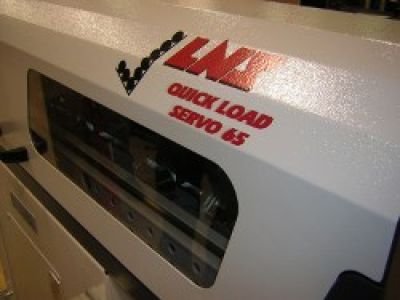 To meet our customers' increasing production demands, Protomatic recently purchased an LNS Servo 65 Bar Feeder for our busy Mazak. This Bar Feeder provides loading of multiple bars of raw stock for the purpose of automating lathe operations.
Front of LNS Bar Feeder
This is the access side of the bar feeder. Looking inside this window you can see the feeder mechanism and loaded bar of stock.
Back of Bar Feeder
The top tray is  where the material is loaded. Freshly cut 4′ long bars are laid on the loader tray that has a 23" capacity.  The capacity is limited by the linear diametric sum of 23 inches.  As an example, the bar feeder  will allow up to  23 x 1" OD bars to be loaded, 92 x 0.25" OD  bars, or any diametrical similar combination ranging from 1/4" to 2" OD
Business End
This is the business end of the bar feeder. The pusher tip is shown in the black center pin.  Pushers of varying diameter may be changed out for small and large OD raw stock bars. The tip is in contact with the raw stock, using cnc programming to forwarding the raw stock for the next part.
Why do we need a Bar Feeder?
All businesses today are in a race for productivity. Always moving forward, Protomatic is looking at many basic and innovative ways to increase productivity.  Bar feeders have been around a long time and they are just one of many tools that help increase productivity. This equipment helps us to be more cost competitive enabling us to do "lights out" manufacturing.  This drives our costs down for our customers by increasing our productive hours.
What is a Bar Feeder?
Simply, bar feeders automatically supply raw stock in the form of long  bars to the lathe's main spindle. The stock is fed through the back of the main spindle allowing uninterrupted and unmanned machining processes.
Space Saver 4′ vs Full Length 12′
Protomatic selected a Space Saver style bar feeder.  A Space Saver is simply the shorter version of a full length bar feeder.  Space Savers do require  cutting the typical 12 foot bar into four foot sections. Even though cutting the bar twice is an extra preparation process, the savings in floor space and noise reduction are worthwhile. More importantly to our customers, the reduced vibrational bar whip delivers a tighter tolerance capability that long bar feeders cannot. The shorter feed stock also fits our prototyping orders with short and medium batch runs very well.