Mazak Nexus Lathe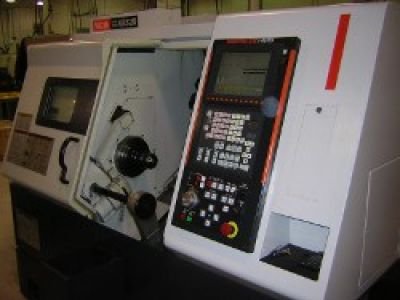 This month Protomatic is  highlighting a new lathe that is available at Protomatic.   This lathe is very similar in capability to our 42mm lathes, but it has increased size, 51mm, and power.  Although this is not a new machine, it adds to our capabilities and gives us one more tool to address specific customer applications.
Machine Overview
Protomatic is proud to add new turning capacity in the form of the Mazak Nexus. The Nexus QTN series lathe brings together advanced technology, productivity and value to deliver exceptional performance.  The power and speed is complemented with the Mazatrol CNC Control featuring simple and smart conversational programming, complete with monitoring and diagnostics.
Turret Style Machine
This lathe is a horizontal two axis lathe, utilizing a 12 station turret with through tool coolant.  This architecture offers versatility, precision control and speed.
Capacity and Speed
The lathe offers a powerful main spindle motor of 5000 rpm with 35 peak horse power (30 Min), and utilizes an 8″ chuck, 16C collets or VersaCollets  (100mm, TM Hardinge).  Bar capacity is 2.0″ (51mm) with a maximum swing of 24″ x 20″ long.  Other options include a chip conveyor, parts catcher and tool probe.