Protomatic adds a Robot for improved process control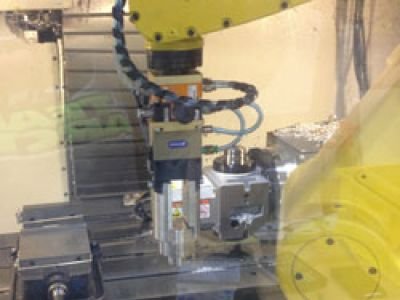 The Protomatic Manufacturing System now has its first robot. The setup is based on a Haas VF-2SSYT 5-Axis Vertical Machining Center (VMC) combined with the Midaco Corp. 6-axis "Robotic Part Loading/Unloading system". Together, they deliver an actual 11-axis control system. Additional servos, controlling functions such as automatic door operation, various manufacturing sensors, system handshakes, and air blow off actuators, are not counted as additional axis, but nevertheless are present on the Protomatic robot.
Multi-cavity vs. single-cavity manufacturing
To reduce costs, we have been manufacturing some parts in 4-cavity 5-axis machining centers. A cavity is a placement setup on a CNC machine with each cavity holding a unique part. This 4-cavity type of operation improves the process throughput of each machining cycle by 3 extra parts. However, one of the inherent process variations with this setup for high precision parts is that after cycle completion the machine is idle. The machine tool then cools and potentially changes the machine's thermal drift by 0.0004''. This changes the part dimensions to the extent that the expected location has moved and the insertion of a tool may not be where it is intended. In other words, the tool moves in where it is supposed to, but the machine tool has cooled and the target has moved as a result. Additionally, there may be "cavity to cavity" variation in setup. The net result with multiple cavities is more in-process inspection is required due to the potential cavity differences and thermal variations. In effort to improve part consistency, Protomatic has significantly reduced these variations with a robot which uses the same cavity each time."
Why did we invest in a robot?
The 24/7 robotic operation allows the CNC machine to utilize a single-cavity setup and achieve or exceed the output performance of a manual multi-cavity setup. In addition, the machine's continuous run time delivers better thermal stability, which incrementally improves part quality. The robot allows for continuous production without the extended periods of downtime present in a manual operation – which experiences small temperature changes in the machine. This technique improves overall product quality.
In-house support
Over the last six months we have trained operators and programmers in many areas, from designing and manufacturing our End of Arm Tooling (EOAT) grippers to handling the FANUC base 200ic5L 6-axis robot controls. The robot is equipped with a special tool called a "teach pendant", which is used to program the robotic movements. With this tool, we can quickly program the robot to operate efficiently for many different applications.
Our customers can be assured of high quality and consistency in the parts they order from Protomatic. Many of our vertical machining centers have thermally resistant glass scales for consistent dimensional locating and are equipped with high-end options such as thru coolant, mist collection, tool life monitors, Renishaw Tool Break Detectors, and "High Speed Look Ahead" to improve machine finish performance. Please watch this video for a short load/unload demo.