Protomatic Adds to CMM Measurement Capabilities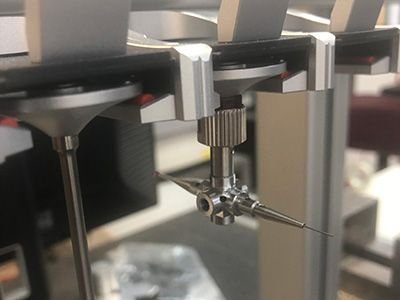 Although Protomatic has been operating during the Covid-19 crisis, we know that many supporting companies have slowed down. As we all get back on track, we analyzed what we could do to support all industries — particularly those in medical and aerospace. In doing the analysis, we recognized the importance of inspection and the increased demand required to support our medical and aerospace customers.  It was determined that these areas showed the most opportunity for improvement.
CMM capability added
Protomatic recently purchased a new Hexagon Metrology Coordinate Measurement Machine Global S .5.7.5 #INS-851. This machine is motorized and fully programmable with PCDIMS software. It provides optimized advanced scanning tactile probe tips and tip exchanger. This combination offers a fast and accurate measurement of precision parts.
Protomatic is pleased to add this CMM, our smallest, with a workspace envelope of 0.5M x 0.7M x 0.5M. "This is the perfect machine for measuring many of the precision parts that are manufactured at Protomatic," stated Alan Taylor, Quality Manager. Due to its small size, this CMM has more accurate scanning probe capabilities, with increased measurement data. It is also faster due to the small size of the machine and the technology improvements.
We will be making room for this addition by replacing #INS-051, a manual Brown-Sharpe Gage 2000, with one of the current CMMs. We now have three CMMs, all PCDIMS compatible, with the additional support of vision-based optical inspection.
Equipment installation, validation and calibration
The installation was performed by Hexagon Metrology to Applicable Standards to ANSI/NCSL 2510-1, with Artifacts Traceable to National Institute of Standards and Technology, in May 2020.
Precision CNC Manufacturing
At Protomatic, we know that lives depend upon the parts we make. The addition of this new CMM machine allows us to ensure accurate inspection of parts critical to the medical and aerospace industries, as well as others. And continues our commitment to Life-Saving Precision.

About the author: Doug Wetzel is Vice President and General Manager of Protomatic. Protomatic is a CNC precision machining shop specializing in prototype and short-run production components for the medical, aerospace and other technical industries. Because of the critical nature of the parts they design and manufacture, the emphasis is always on Life-Saving Precision.