Protomatic Comes Through for Project Warp Speed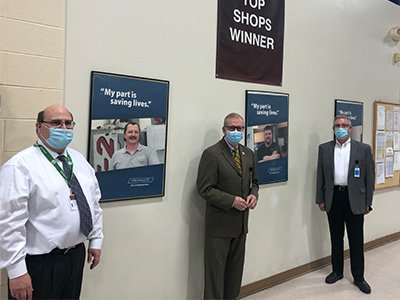 Protomatic is proud to have been called upon to contribute to Project Warp Speed. At Protomatic, the guiding principle is designing and manufacturing every part with Life-Saving Precision. That commitment was instrumental in Protomatic being chosen to supply parts for vaccine vial-filling machines, helping the pharma industry supply millions of doses of Covid-19 vaccine.
On March 12, Michigan Congressman Tim Walberg visited Protomatic to observe their machining and inspection capacities and how they assisted in combating Covid-19. He was given demonstrations on Protomatic's manufacturing abilities in turning, milling and multi-axis machining.
Congressman Walberg noted, "At Protomatic's facility in Dexter, they manufacture precision parts for the aerospace and medical industries. I appreciated the opportunity to hear more about their work, including their part to help with vaccine manufacturing."
Precision machining is all about the metrology of the measurement. For the Warp Speed project, very specialized metrology instruments were used. Protomatic used a variety of technologically advanced inspection devices, including XRF, to confirm raw-material alloys.
Talysurf was used for surface finish, contour, 3D and diameter measurement. To measure part quality, a number of instruments were used, including: optical comparators, vision systems, laser micrometers, optical/3D microscopes and CMMs.
You'll find that Protomatic has the right equipment for virtually any precision CNC machining need. Along with mainstream equipment such as CNC 5-axis machining centers, and CNC multi-axis (8 Axis) machining centers, Protomatic also has very specialized equipment such as micro-blast deburring, vibratory, and magnetic tumbling.
Microscopes enable the machinists at Protomatic to "see and address," and provide the attention to detail required in critical parts, and ensure they are all made with Life-Saving Precision.
About the author: Doug Wetzel is Vice President and General Manager of Protomatic. Protomatic is a CNC precision machining shop specializing in prototype and short-run production components for the medical, aerospace and other technical industries. Because of the critical nature of the parts they design and manufacture, the emphasis is always on Life-Saving Precision.