Protomatic Completes ISO Upgrades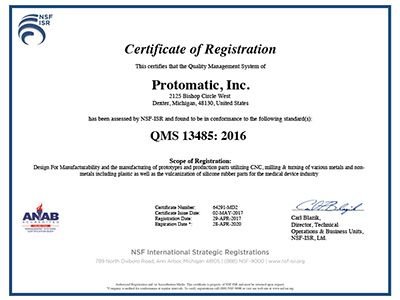 Just two months ago, we talked about the goals for Protomatic in 2017. We are happy to report that one of the major goals that we set for 2017 has already been accomplished. That goal was the upgrade and registration to the two new ISO standards. Protomatic has been working on a basic business direction for many years, so the conversion went smoothly.
Key Differences
ISO9001:2008 to ISO9001:2015
ISO13485:2003 to ISO13485:2016
While the new standards are both similar, in this document we reference the more demanding standard medical version, ISO13485:2016. This standard has all the ISO9001:2015 requirements, plus more.
Both ISO standards approach the bulleted guiding principles, and the ISO clauses are loosely categorized within the principle area. ISO13485:2016 clauses in (X.Y) unless noted. Key differences when upgrading are listed below:
Customer Driven

Understanding the needs and expectations (7.1)
Communication with regulatory authorities (7.2, 8.2)
Improved customer feedback, compliant handling (8.2, 8.3, 8.4, 8.5)

Leadership

Organizational knowledge, safeguarding knowledge (ISO9001:2015, A.7)
Capture and sharing Information, mentoring, benchmarking, accountability (6.2)
Create infrastructure to prevent product mix-ups (6.3)
Improved management review process (5.6) and analysis of data (8.4)

Engagement of Employees

Training for infrastructure awareness (safety to cybersecurity), job-related skills (6.2, 7.2)
Communication and empowerment (4.1)

Process Approach

Improved product planning, with process validation (7.1, 7.2, 7.5)
Work environment as related to manufacturing process (like medical sterilization, 6.4, 7.5)
Improved requirements in cleanliness, identification, storage, traceability, and preservation of product (6.4, 7.5)
Product design (7.3)
Risk-based thinking (4.1)

Improvement Based

Improved infrastructure — roles and responsibilities, risk-based approach, information technology software validation, equipment maintenance (4.1, 4.2, 6.3)
Design and development for manufacturing process that minimizes risk (7.3)
Continual improvement (8.5)

Evidence Based Decisions

Data driven base decision making (4.1, 8.4)

Relationship Management (suppliers, Internal)

Supplier selection criteria based on quality, risk and regulatory requirement (7.4)
Notification of changes in purchased product (7.4)
Improving the relationship and understanding of the product requirements (7.4)
We go to this level of detail because it is important to educate our customers and suppliers on the importance of manufacturing critical parts. We take great care in creating the best process for manufacturing your parts, and have developed an efficient and elegant system to accomplish your requirements. We want to provide confidence that we understand our commitment to manufacture the best parts possible for your applications with "Life-Saving Precision".
This may help you in evaluating similar suppliers; not on price alone, but on meeting your requirements for performance, quality, and risk as described in ISO-13485:2016, clause 7.4.
For more information, please contact Doug Wetzel, Vice President & General Manager, at 734-426-3655 or email doug@protomatic.com.

About the author: Doug Wetzel is Vice President and General Manager of Protomatic. Protomatic is a CNC precision machining shop specializing in prototype and short-run production components for the medical, aerospace and other technical industries. Because of the critical nature of the parts they design and manufacture, the emphasis is always on Life-Saving Precision.