Protomatic Helps Educate and Encourage Future Engineers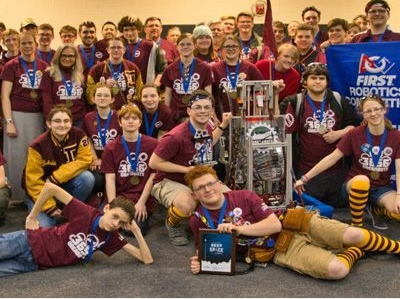 Protomatic is committed to helping educate and encourage the next generation of engineers, designers, and innovators. That's why we are proud to be a sponsor of the Dexter Dreadbots — a team of local high school students with a desire to learn more about robotics.
The students work with mentors in areas such as mechanical and electrical engineering, programming, safety, strategy and business. Importantly, they are learning practical applications of how to solve complex engineering problems with modern technology.
While we're proud to be a sponsor, we're even more proud of what they have accomplished. Currently, the team has 42 members and recently won a District Competition in District Deep Space sponsored by Boeing. They also won the Entrepreneurship Award for their business plan.
When students develop the skills to solve difficult problems while they gain real-world experience, we all benefit. For Protomatic, it means the future looks bright for continuing to provide our customers with Life-Saving Precision.

About the author: Doug Wetzel is Vice President and General Manager of Protomatic. Protomatic is a CNC precision machining shop specializing in prototype and short-run production components for the medical, aerospace and other technical industries. Because of the critical nature of the parts they design and manufacture, the emphasis is always on Life-Saving Precision.