Protomatic is recognized by the Michigan Manufacturing & Technology Center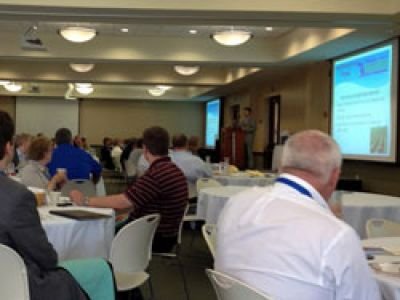 On August 16, 2012 Protomatic presented at the Michigan Manufacturing & Technology Center's (MMTC) Proud to Manufacture in Michigan" Conference and Celebration. We were asked to talk about our company's transformation from heavy dependency on the auto industry to becoming a major supplier to other mission critical industries over the past few years. Following is a summary of how we've adjusted our strategic focus for continued growth.
In the mid 1980s, the Detroit automotive market was booming and times were good. Engineering departments would select an outside source to manufacture their new component designs if their internal prototype departments couldn't handle the complexity, accuracy or schedule. The engineers in the Big Three gravitated to those companies with leading edge technology. Protomatic was a standout in the region.
Then came the competition from overseas. Automotive manufacturing and R&D costs were being cut with little or no consideration to past performance or engineering support from the prototype developer. We could have kept our sales volume up if we matched the lowest bidder, but the profit margins would continue to dwindle. This presented a major problem as it was forcing us to move away from our leading-edge technology position toward becoming a low-cost, high volume manufacturer, which was not our mission.
The continuing business direction in the automotive industry presented further difficulties. For that reason, we decided to take our company in a different direction. We knew we had to add more diversity to the markets we served. To do this, we needed to identify and leverage our core competencies. Interestingly, even in our early days of business we had medical customers who appreciated our competencies along with our automotive fan base. Those competencies have been and continue to be precision and quality. Today, we are appealing to more and more medical and aerospace customers.
Next, we had to formulate a strategic roadmap to lead us in the new direction. This is when we made a decision with far-reaching implications. We called on MMTC. They provided the expertise and objectivity that was so necessary to us during this crucial transformational period.
There were many questions raised and many obstacles to be overcome – Would we need new machinery, new certifications, quality control systems, or training? The answers were "Yes" on all counts. In all, Protomatic took advantage of 19 programs offered by MMTC. They mentored us and kept us on track throughout the evolution of our business from 2006 through today. Their knowledge and insights provided a foundation essential to building a more diverse Protomatic.
The change in direction required company-wide participation, which came without hesitation. The talent we had gathered during our early automotive prototyping days adapted quickly as we worked through MMTC's intensive programs. We had always been mission focused. We are now mission critical.
The MMTC honored us at the conference for our commitment to their programs. They recognized Protomatic as a successful implementer of the training and techniques offered by their organization; and showed how we are already benefiting from programs such as enhanced QMS, Lean and 5S.
In 2006, Protomatic was just one of many prototype manufacturers viewed by the auto manufacturers as simply another supplier. Today, thanks to MMTC, our customers and our employees, Protomatic continues to be involved in multiple industries, while also providing products to other leading companies that demand high-quality precision-made parts.
MMTC was an incredibly important asset to us, and is certainly worth consideration by any company looking to expand its horizons.
Refocusing our business was the best thing we ever did. Ultimately, we learned to listen to you, our customers, better. We appreciate the business you place with us and strive to constantly reinforce our commitment to you.