Protomatic ISO and Cyber Security Goals for 2017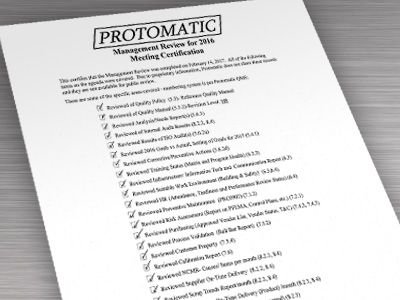 A lot of companies simply do not have the time to evaluate their supplier base. Unfortunately, this means there is little or limited communication between quality and management teams. To bridge that gap, Protomatic brings you these newsletters on a monthly basis. We hope you find them informative and educational.
Quality Management Goals for 2017
Internally, we are setting some demanding corporate goals for 2017. This includes reviews in the form of gap analysis, then implementation of the upgraded standards.
Update from ISO-9001:2008 to ISO-9001:2015
Update from ISO-13485:2003 to ISO-13485:2016
Update AS9100C to AS9100D Compliance
Complete the Cyber Security NIST SP800-171
Well Positioned for ISO Changes
Protomatic is supporting three Quality Management Systems (QMS). Sounds like a lot for a small company, but the standards are very similar and the strength of the established ISO-13485 and AS9100C QMS makes the changes easier. Many of the changes in the three ISO standards are in alignment with each other. Additionally, the basic ISO change premises are in line with our corporate culture.
Basic ISO Standard Change Premises
Customer driven focus
Leadership based
Engagement of employees
Process approach
Improvement based
Evidence based decisions
Relationship management (suppliers, internal)
When corporate culture is in alignment, this makes work significantly easier. The company has many examples of this great foundation already in place. See Modern Machine Shop article "Managing Risk" February, 2017.
Cyber Security Improvements
Additionally, Protomatic is actively working on cyber security, utilizing the NIST SP800-171 guidelines. It is strategically important that all companies, no matter the size, create a strong corporate cyber security program. This is an infrastructure as important as electrical power or compressed air for a CNC Shop. The IT infrastructure is critical to the success of a company. Small companies are disproportionally burdened due to high fixed costs for servers, firewall(s) and cyber monitoring software, but it must be done. Protomatic is working on NIST SP800-171 compliance and is on schedule for the completion by Dec 31, 2017.
Why is this important?
A formal internal quality management system audit is performed annually. A formal management review is also conducted. Protomatic has performed both annual milestones to date and on schedule. In view of this, we want all of our customers to know that the Management Review Certification is available for download. Additionally, the independent ISO auditor is scheduled for review in April of 2017.
We welcome a company-to-company quality audit. If your company does not require an ISO-style audit, we will be glad to let you know what we are doing in the quality system at Protomatic.
For more information on ISO or cyber security at Protomatic, email our Vice President/General Manager, Doug Wetzel, call him at 734-426-3655; or send a question to our sales department. We'll respond promptly.
About the author: Doug Wetzel is Vice President and General Manager of Protomatic. Protomatic is a CNC precision machining shop specializing in prototype and short-run production components for the medical, aerospace and other technical industries. Because of the critical nature of the parts they design and manufacture, the emphasis is always on Life-Saving Precision.