Protomatic Launches New Website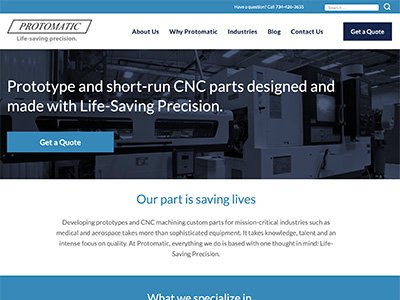 Protomatic, one of the leading CNC machining shops in the U.S., has launched a new website.
The new website features a clean, modern look, easier navigation, more product information, and an easy-to-use "Get a Quote" function.
The new website puts particular focus on the medical and aerospace industries. These are
mission-critical industries where the Protomatic philosophy of designing and manufacturing every part with live-saving precision is of utmost importance.
In medical device machining, the new website puts particular emphasis on the cardiovascular and orthopedic areas, and the products it supplies to each. There is also information on the surgical tools Protomatic can provide to medical doctors, as well as those in the dental and optical fields.
Aerospace machining is prominently featured on the website with information on both commercial and military applications.
Among the many topics included in the aerospace section are the variety of materials Protomatic can work with; development of prototypes; generative design; and part marking and laser engraving.
Take a look through www.protomatic.com for more info on Protomatic and its dedication to life-saving precision.

About the author: Doug Wetzel is Vice President and General Manager of Protomatic. Protomatic is a CNC precision machining shop specializing in prototype and short-run production components for the medical, aerospace and other technical industries. Because of the critical nature of the parts they design and manufacture, the emphasis is always on Life-Saving Precision.