Protomatic Puts a Spin on Improving Surface Finish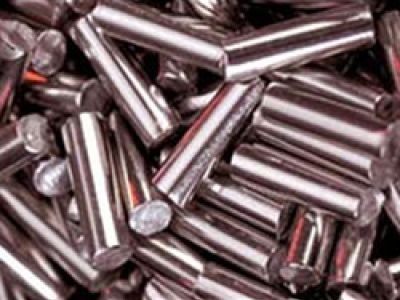 Protomatic recently added the ability to micro deburr small parts. This addition, a machine, known as "The sPINner", uses a circulating magnetic field and steel pins as media enabling us to deburr small details without altering the dimensions of a part.
This is just one of the ways we improve our customer's product surface finish. According to Doug Wetzel, "We are always looking for ways to bring higher product quality to our customers through relatively inexpensive processes. While the sPINner helps us to do that we continue to investigate other processes."
The media used for the polishing is comprised of small rod shaped 304 Stainless Steel. This media and the energy applied to it is customized for each customer's needs. The media can be as small as 0.3 to 0.7mm in diameter and 3 to 5mm in length.
The small pin size is a significant advantage. These pins work particularly well with threaded parts since they can fit within the threads. These pins are gentle enough to not affect the dimensions of the part itself making the SPINner a great deburring solution for parts with tight tolerances.
The pins are magnetically tumbled with a soap based solution and then spun centrifugally by powerful magnets which operate faster and more consistently than current manual processes. In traditional gravity-based tumbling systems, less energy/work is delivered to the work piece as the media gets smaller. However, with the sPINner, the energy level can be adjusted by increasing or decreasing the energy of the magnetic field. This gives us exquisite control for deburring very small details, often resulting in an electro-polished look.
Our customers can be assured of high quality and consistency in the parts they order from Protomatic. The sPINner is just one of many reasons we are able to meet and exceed your demands. If you are interested in a test sample or would like one of your parts deburred, please ask our sales staff for a sPINner sample trial.