Protomatic Renews QMS Certifications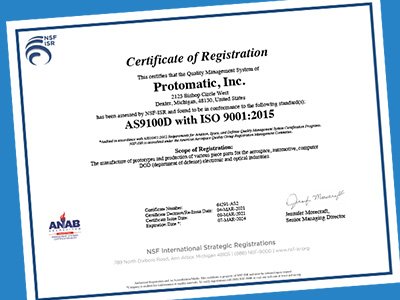 Protomatic manufactures precision CNC parts for the aerospace and medical industries. To help ensure that every part meets optimum quality standards, we perform regular independent inspections of the Quality Management System. These inspections are conducted with trained in-house staff, as well as with independent quality auditors.
QMS Renewal
Quality Management System (QMS) inspections are typically contracted and registered on a three-year cycle. They are then inspected annually, and cover details related to policies, procedures, instruction, forms and records.
The QMS registration is updated every three years. This year was Protomatic's three-year renewal for AS9100D and ISO-9001.
This renewal covers the manufacture of prototypes and production of parts for the aerospace, automotive, DOD (department of defense), electronic and optical industries. A downloadable copy of the certificate can be found on the Protomatic website.
Key Process Indicators
To help make QMS even more effective, Protomatic performs a monthly review of 18 Key Process Indicators. With each, the management team reviews and recommends improvements to quality, efficiency, and safety for our employees.
Mitigating Risk
When changes or recommended improvements demonstrate a "Risk" to the operations, the Potential Failure Mode and Effect Analysis (PFMEA) is used. This process is an effort to mitigate all known risk, or make the risk less severe or serious by providing a method to minimize it.
The PFMEA represents a formal method that involves scoring all known risks in by answering three questions:
What is the Severity of the Risk?
What is the Occurrence Rate?
What is the Detection Method?
The Severity of the Risk will remain constant because the risk of a known failure is always present. The Occurrence and Detection of the Risk may be improved. The scoring system re-scores the mitigated risk and reviews and determines an acceptable score based on company criteria. Risks are then mitigated until an acceptable score is achieved.
Why Support QMS
"Protomatic is focused on continual improvement in understanding the needs of our customers. That is the principal reason for supporting QMS at Protomatic" stated Doug Wetzel, Vice President and General Manager. "The team's acceptance of QMS helps all of our customers and enables us to continue to provide them with Life-saving Precision throughout every CNC part we manufacture."

About the author: Doug Wetzel is Vice President and General Manager of Protomatic. Protomatic is a CNC precision machining shop specializing in prototype and short-run production components for the medical, aerospace and other technical industries. Because of the critical nature of the parts they design and manufacture, the emphasis is always on Life-Saving Precision.