Protomatic Saves our Customers Time and Money with Vision System Inspections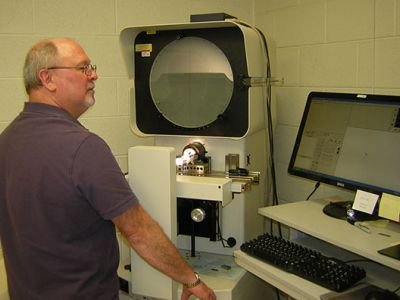 When manufacturing mission-critical parts, Protomatic's "Life-Saving Precision" is of paramount importance. To assure part consistency and quality, we use a number of inspection techniques including an Optical Comparator with computer assist, the Nikon VMC-3020 vision-based system programmed to measure specific characteristics and the Keyence IM-6020 manufacturing floor-based system programmed for specific features.
To ensure accuracy when process variations prove to be most demanding, Protomatic technicians perform 100% feature inspections on your parts. In many cases, this can mean that inspection time is greater than manufacturing time, dramatically affecting project cost. To reduce the cost to our customers, Protomatic looked for ways to decrease the inspection time.
We started by comparing the performance of the three inspection devices by measuring a chamfer diameter. Using an automated Optical Comparator, the measurement time was 95 seconds compared to the equivalent measurement of 5-7 seconds on a vision-based system – a considerable time savings with the vision system.

The disadvantages of a vision system include its ability (or inability) to measure a part's features and measurement correlation to industry standard methods. For the latter, a gage Reliability and Repeatability (R&R) is conducted to confirm measurements. This requires some time and effort, but it is worth the high level of confidence it delivers.
The advantages offered by the vision systems are measurement consistency and speed. Vision systems are consistent because they remove operator measurement variation. They also take many more data points to report a single measurement, resulting in a more accurate measurement.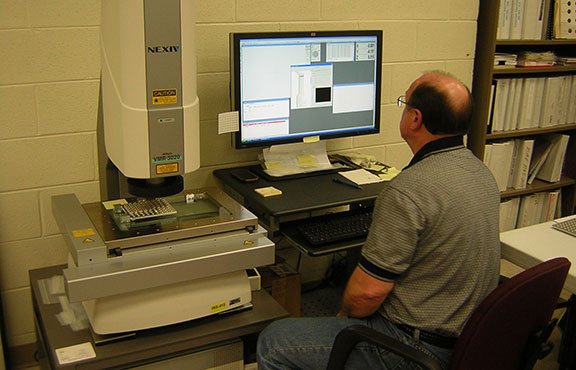 The Nikon VMC-3020 is a vision based system that is programmed to measure specific characteristics; unit is being setup by Rick Held.
Our customers are confident that the parts we manufacture will meet their specifications. Even when 100% inspection is required for a large production run, we take steps to avoid long inspection times by employing vision systems for quick and reliable in-process methods of checking parts. Best of all, the cost savings are passed back to our customers in the form of competitively quoted prices and shorter lead times. Incorporating vision systems helps us on our mission of delivering "Life-Saving Precision" to all of our customers.
Protomatic will be closed on Monday, May 27 for Memorial Day.