Protomatic Thinks Trade Shows Are a Great Idea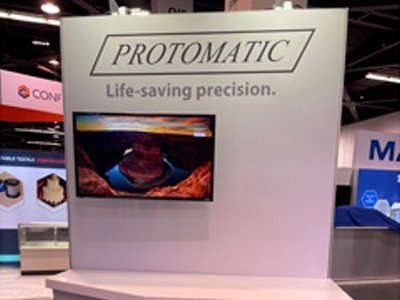 The death of trade shows is greatly exaggerated.
Protomatic recently headed to California and hosted a booth at the MD&M West Show at the Anaheim Convention Center. The MD&M show is all about Medical Device and Manufacturing. Among the subjects featured are disposables, packaging, assembly equipment, robotics, 3D printing, manufacturing equipment, and injection molding.
You can't get the same experience online
MD&M participants and attendees alike found it a real pleasure to have Covid-19 restrictions lifted and conduct business on a person-to-person level again. We've all found that in-person meetings are so much more productive and effective than anything offered online.
You can see everything in one location
Companies can meet potential customers in person
Customers can physically touch equipment
Visual clues are picked up that would be missed in a video conference
Relationships can be established
It only takes one video conference trying to concentrate with a barking dog or blaring tv in the background to want to get back to normal business. That's a big reason this show was so well attended.
What's the big idea
Since the show was on the west coast, it was able to attract attendees from California's diverse base of manufacturing industries. Along with those in the medical field, there were representatives from defense, aerospace, automotive, and food.
It can seem counter intuitive for those in aerospace or automotive to go to a medical trade show. But attending a show outside of your own business lets you discover innovation and learn about new technologies that may in turn help you improve your business.
"One of the best ways to spark new ideas and to apply product innovation is to leverage technologies from other industries," stated Doug Wetzel, Protomatic Vice President/General Manager.
Life-saving precision
Protomatic is committed to Life-Saving Precision in every CNC component we design and manufacture. Attending trade shows allows for the interchange of ideas and uncovering new solutions that are an integral part of that commitment.
About the author: Doug Wetzel is Vice President and General Manager of Protomatic. Protomatic is a CNC precision machining shop specializing in prototype and short-run production components for the medical, aerospace and other technical industries. Because of the critical nature of the parts they design and manufacture, the emphasis is always on Life-Saving Precision.