Protomatic to be Featured at MMS Conference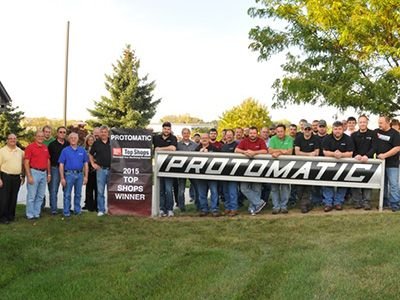 Protomatic, a precision CNC machine shop, will give a presentation on ISO Systems and Business Risks at the MMS Top Shops Conference. The conference is an extension of Modern Machine Shop's successful Top Shops benchmarking program.
The conference will take place September 5-7, 2017 at the JW Marriott in Indianapolis.
Doug Wetzel, Protomatic Vice President and General Manager, will give the ISO Systems and Business Risks presentation which will shine a light on a number of important topics.
Take a look at some of the topics and it's easy to see the benefit of attending this talk.
ISO Quality Management System – An Overview
Exploring & Understanding ISO Limitations
Time for an ISO Re-evaluation
ISO 9001:2015 – Quality Management System
ISO 9001: 2008 vs. 2015
AS9100D:2016 – Aerospace QMS
ISO 13485:2015 – Medical Manufacture QMS
Exploring and Understanding ISO Limitations
What Are Your Business Trends?
Risk Based Thinking
What is Your Critical Infrastructure?
Cyber Security Overview
Cybersecurity Mitigation Process
Potential Failure Mode and Effects Analysis – PFMEA
Risk Priority Number Definitions – RPN
Risk Mitigation
The MMS Top Shops Conference will also provide a wealth of information from other leading shops that can help improve the operations of any enterprise. Topics will include:​
Advanced Machining Technology
Shopfloor Practices
Business Strategy
Workforce Development
Operational Benchmarking
Additive Manufacturing
Robots & Automation
Data-Driven Manufacturing
We look forward to seeing you at the conference and sharing tips, tools and technologies that will enable us all to lead and succeed.
For more information about ISO Systems and Business Risks, please contact Doug Wetzel at Doug@Protomatic.com or 734-426-3655.

About the author: Doug Wetzel is Vice President and General Manager of Protomatic. Protomatic is a CNC precision machining shop specializing in prototype and short-run production components for the medical, aerospace and other technical industries. Because of the critical nature of the parts they design and manufacture, the emphasis is always on Life-Saving Precision.