Specifying Materials 101 - Billet Aluminum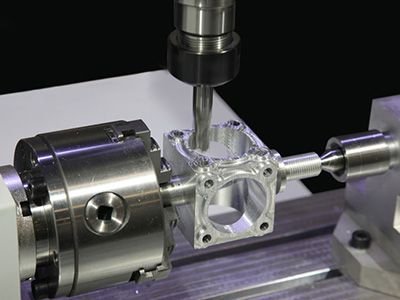 Years of experience in working with many types of materials gives manufacturing operations valuable insights in how to specify materials that will optimize product performance.
However, nothing ever stays the same. For products to continually improve by being lighter, more efficient, and with a longer lifespan, material specifications need to change, and print modifications need to be made.  Therefore, it is important for the product designer to understand the limits of various materials, the manufacturing processes they undergo, and the strengths and weaknesses of the product design.
These procedures cannot be performed in a vacuum. The designer not only has to consider what the part does, but how it will be made.  Consultation with manufacturing engineering and purchasing will help determine cost implications, raw material availability and potential lead time.
Let's talk aluminum
To help show how even a slight variance in material specifications can make a huge difference, this article will use aluminum as an example. While we are focused on aluminum and billet form, the approach also applies to other materials, as well as conditioning and finishes.
Under-specified material
One of the largest errors is simply that the material specification is very generalized. In some cases, this may be OK, but it is not acceptable for critical industries such as medical or aerospace. The following example shows the difference.
Not the Best Practice:
Material:  Aluminum
Good Practice:
Material: 6061-T6,T651, or T6511 Aluminum Alloy per AMS 4027 or AMS 4117. 
Engineers will take notice that there is a large variation in strength and elongation characteristics in "aluminum" and many alloys may not work for certain applications. Many job shops would default to 6061-T6xx.  Caution: you may receive mystery aluminum.
Over- specify when possible 
Being detailed is a good thing, but sometimes a print has a material callout that is too restrictive.  For example, many times the best process would be to manufacture a part from round bar stock, but only plate is specified.  This limits the manufacturing process and does not give costing flexibility.
Additionally, sometimes material shapes are simply out of stock or more expensive. Manufacturing the part from rolled bar, extruded or plate is now critical to meeting requested delivery schedules.  This change in thinking is primarily due to the advancement in CNC technologies.  The newer and more advanced CNC machines have more ability to process the parts. With this technology, improved processing steps are utilized.  These machines are CNC turning and milling hybrids, called multi-axis machines. Intergrex™ (™ of Mazak Corp.) is one example of this change in thinking.
Recommendation: specify both material shapes
This gives manufacturing the flexibility to optimize the manufacturing process as well as minimize material removal during machining.  If grain direction is important, then it should be noted. Grain direction should be evaluated for strength — and for consistent cosmetic appearance of parts that are etched or anodized.  Below is an example of the difference in specific vs. multiple material shapes.
Not the Best Practice:
Material: 6061-T651 Aluminum Alloy per AMS 4025
(Limited to 6061-T651 Plate only)
Good Practice:
Material: 6061-T6 or T651 Aluminum Alloy per AMS 4027 or AMS 4117, AMS 4025.
Alternate:  7075-T6 Aluminum Alloy per AMS 4123
Grain Direction Critical: See direction note on print.
(Covers 6061 in Round, Extruded, Plate and 7075 in Plate, plus grain. This could also specify an additive 3D metal printing process.)
Understanding Billet
The table below demonstrates the three common manufacturing processes used to make billet aluminum: Rolling, Extruding, Plate.
Rolled aluminum products are produced either by hot extruding and cold finishing, or by hot rolling with or without cold finishing. This is designated with the Federal spec AMS-QQ-A200/X, manufactured per ASTM-B211, or a similar specification.
Extruded aluminum products are manufactured by extruding bars, rods, wires, profiles, and tubes. This is designated with the Federal spec AMS-QQ-225/X, manufactured per ASTM-B221 or similar specification.
Plate (and Sheet) specification covers aluminum and aluminum-alloy flat sheet, coiled sheet, and plate in alloys and tempers. This is designated with the Federal spec AMS-AA-250/X, manufactured per ASTM-B209 or similar specification.
Billet Differences

As you learn about aluminum billet, you find a myriad of specifications that are similar and unique because there are many cross or complementary specifications for available billet.
The following table demonstrates a summary of most of the commonly used aluminum billet alloys:
Specification Common Cross Reference * for Aluminum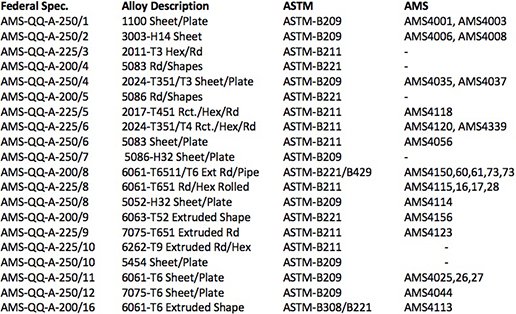 * Partial list, most common shown.
Forging: Variable grain shaped to the geometry of the part, optimizes strength. Separate AMS Specifications for forgings.
Tube and Pipe: There are many types of tubes and all have unique specifications for drawn, drawn seamless, extruded, extruded seamless, welded, hydraulic, condenser, condenser with fins. Pipe has similar specifications
Foil: Thin sheet is classified as foils, and there are separate AMS specifications for foils.
Castings: This is another area, not discussed in this article.
Cladding: Alclad is another area not discussed in this article.
Additive Metal – Not discussed in this article.
Additionally, here is some basic information regarding tempers. This is a heat-treating process that aluminum provides or maybe enhances. Some of the more common Aluminum Heat Treat Tempers and a brief description of their differences are noted.
Common Temper Types for Aluminum
7075 Alloy QQ-A-250/12 is supplied in a wide range of tempers:
O – Soft, Annealed condition
T351 – Solution heat treated then stress relieved by stretching. Similar to the T4 condition.
T6 – Solution heat treated and artificially aged
T62 – Solution heat-treated, then artificially aged by the user
T651 – Solution heat-treated, stress relieved by stretching, then artificially aged
T6510 – Solution heat-treated and stress-relieved by stretching, then artificially aged with no straightening after aging – Similar to the T4 condition
T6511- Solution heat-treated and stress-relieved by stretching, then artificially aged with straightening after aging
T73 – Solution heat treated then specially artificially aged for resistance to stress corrosion
For more detailed information, refer to our whitepaper, "Differences of Common "T" Temper Designations for 6061 Alloy Aluminum."
As the manufacturing industries move forward with consideration of the myriad of possible material options. Engineers should consider materials first when designing products to achieve more economical, high strength and ultimately product life for their design applications.
Please contact Doug Wetzel, doug@protomatic.com for questions, inquires, recommendations, or product applications.

About the author: Doug Wetzel is Vice President and General Manager of Protomatic. Protomatic is a CNC precision machining shop specializing in prototype and short-run production components for the medical, aerospace and other technical industries. Because of the critical nature of the parts they design and manufacture, the emphasis is always on Life-Saving Precision.