Surgical Applications of 3D Printing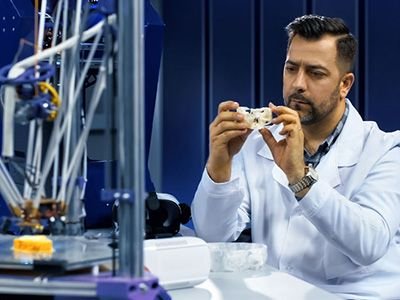 What is 3D Printing?
Before we get into the remarkable ways that 3D printing is being used in medical applications, here's a brief explanation of Additive, or 3D printing.
3D printing works much like a desktop printer, but prints finished products. Instead of ink, a 3D printer uses a combination of basic elements that bond together as they are laid down, layer by layer. There is virtually no scrap because the molecular formations are added so precisely that the product appears in the exact shape desired.
3D Printing is transforming medical training
One of the more fascinating applications of 3D printing was demonstrated at the recent 3D HEALS presentation at the University of Michigan. The presentation was supported by 3D HEALS and the Society of Manufacturing Engineers.
Keynote speakers explained the various 3D-printed tools used for training new doctors. The event showed techniques where common pre-surgical conditions, such as cleft palate, are printed with silicone-based rubbers. These models are then used to train interns and doctors on various techniques to correct the deformity or condition. This was a powerful presentation demonstrating the practical uses of 3D (three dimensional) printing.
3D provides real life models
The keynote speakers were Dr. David Zopf, Assistant Professor of Pediatric Otolaryngology who spoke on 3D pre-planning surgery and educational purposes; and Dr. Gustovo Mendonca, Professor, School of Dentistry/Biologics and Material Sciences and Prosthodontics, regarding digital dentistry.
Dr. Zopf has stated that doctors used to train for surgery by carving potatoes or bars of soap. 3D printing has helped change that dramatically.
Regarding 3D printing, Dr. Zopf explained, "We build a detailed physical model that is remarkably close to real life, with different tissue layers made of silicone, for example, and 3D-printed bone structures.
"The really exciting thing is that you can use the same surgical equipment found in the operating room. You're cutting, suturing, dissecting—performing all of the key portions of an advanced surgical procedure that will later be performed on an actual patient. It's a revolutionary learning tool."
Learn more about 3DHEALS
If you are interested in more medical applications of 3D printing, please visit 3dheals.com or attend one of the many events that they host.
Become a member of SME
Protomatic supports the Society of Manufacturing Engineers and all their efforts to educate and support engineers. For more information, please become a member at SME.org.
Life-Saving Precision
Whether using 3D printing or other techniques, the engineers at Protomatic are constantly searching for new, better ways to solve both modern and age-old problems. Because of the critical nature of the parts we design and manufacture, the emphasis is always on Life-Saving Precision.

About the author: Doug Wetzel is Vice President and General Manager of Protomatic. Protomatic is a CNC precision machining shop specializing in prototype and short-run production components for the medical, aerospace and other technical industries. Because of the critical nature of the parts they design and manufacture, the emphasis is always on Life-Saving Precision.