The Industries of Protomatic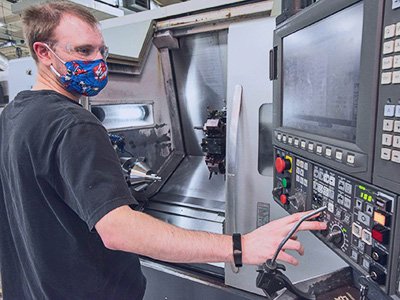 Protomatic is a CNC machining shop specializing in prototype and production components, primarily for the medical, aerospace, defense, and automotive industries.
Medical
With Protomatic's commitment to life- saving precision, we set the standard in medical device contract manufacturing. We have the tools, talent, and processes in place to provide orthopedic, cardiovascular, dental, and optical medical components of the highest quality.
Because of the complexity and precision required of medical device machining, we have added another level of quality assurance to existing standards of safety and efficiency. Protomatic is not only registered in ISO 9001:2015, but also ISO 13485:2016.
Aerospace
We are a respected leader in aerospace manufacturing and are AS9100D registered. With services in CAD, CAM, aerospace milling, and design support – we create accurate and efficient components for aircraft from space to light vehicles.
Protomatic is an innovator in aerospace CNC machining, we even produce expertly crafted materials other aerospace machine shops refuse to touch. Our aerospace machining capabilities allow us to work with almost any material, whether it's super alloys, titanium, stainless steels, special steels, aluminum, plastic, rubber, ceramics, or refractory.
Defense
Protomatic manufactures custom CNC components and assemblies for OEM land vehicles, aircraft, naval, and space vehicles. We also offer support components for military ground vehicles, specializing in electronic chassis and brackets, custom connector components, plastic covers, and microwave applications.
In addition to support components, we provide military research and development parts for land systems vehicle components. Whether in combat, rescue, or relief operations around the world, the reliability of our products serves as a testament to our commitment to quality and life-saving precision.
Automotive
We offer drafting support, prototyping, production, and assembly of custom parts and systems for the automotive industry. We have the capacity to handle a single prototype and large production orders too. In addition, custom parts made from billet or custom castings are also available.
Our facilities, capabilities, equipment resources, and business practices have enabled Protomatic to provide service to customers throughout the automotive supply industry. We have been manufacturing custom OEM components and assemblies for everything from powertrains to instrument panels since 1971.
Prototyping
Protomatic can convert CAD drawings to conceptual models. We build detailed prototypes from plastic or composite materials first, which we then use to test product designs before moving on to the manufacturing phase.
Our CAD and CAM prototyping uses CNC machining to deliver quality prototypes, while our experience with prototyping provides assurance to the client that we are using the correct material properties and surface finishes. If you have no CAD/CAM files or drawings, we can reverse engineer custom vintage parts.
We have manufactured custom parts and prototypes for a variety of applications and industries including:
Semiconductors
Vision systems
Industrial assemblies
Manufacturing fixtures
Custom work holding
Hydraulic and pneumatic
Optical lens holders and optical stages
Optical sensors