The Most Common Metal Coatings and Finishes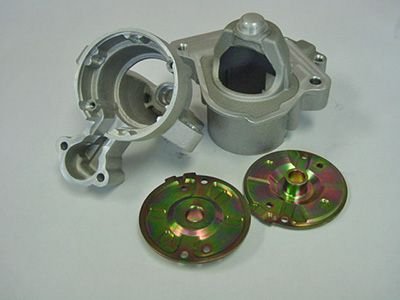 While there is a wide array of metal coatings and finishes available, the following overview highlights many of the options that are most commonly used by design engineers. All have unique properties that can protect or optimize product performance; many reference a military specification; and most are processed by NADCAP suppliers. If you would like more information, most military specifications are public domain and are available at http://quicksearch.dla.mil/
Common Processes for Aluminum Alloys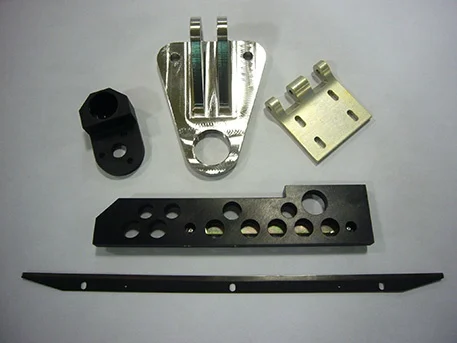 Black Anodize, Chemical film and Passivated parts show an assortment of coating options.
Anodize ASTM-A-8625
Anodizing is great for corrosion control, cosmetic color and surface hardening. The most common anodizing process is the Type II. Note that aluminum alloys with copper, silicon and magnesium do create color variations from alloy to alloy and batch to batch.
Type I – Chromic Anodize
A very thin protective coating. Good for 336hr salt spray testing per Fed-Std-151, Method 811.
Type II – Conventional Anodize (Sulfuric Acid)
This is the most common anodize, providing corrosion control and color. 14 common colors include black, red, blue, green, purple, gold and clear.
Type III – Hard Coat Anodize
Available in a natural non-dyed dark grey or dyed black.
Type III – Hard Coat with Film Lubricant
This is the same as the Hard Coat Anodize with a Teflon impregnation, usually by a trade name such as "Hardlube." Common frying pan-like finish.
Chemical Film Mil-DTL-5541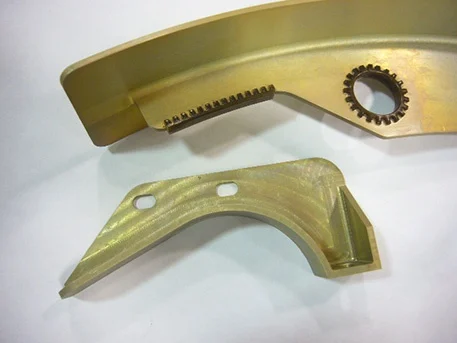 Chem Film Mil-DTL-5541 Class 1a and Class 3
A conductive coating for aluminum. Color options are clear and yellow. Available in hexavalent chromium free.
Class 1a – Maximum corrosion protection, typically used for painted applications.
Class 3 – Low electrical resistance on the surface enables dissipation of static electricity.
Common Process for Steel Plating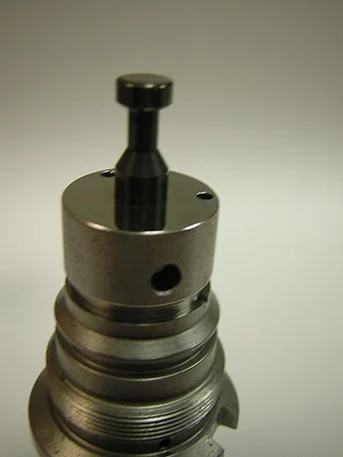 Amorphous diamond coating on the central pin of this intensifier pump – just one of the special coatings that are available.
Zinc QQ-Z-325
Zinc plating is the go-to process for rust protection of steel parts for most commercial applications, it is available in thickness and treatment type, clear and yellow dichromate and phosphate being the most common.
Cadium- Mil-C-13924
Corrosion resistance is very good, available in various colors such a gold, iridescent, amber, black, and olive drab. Not used as much today due to environmental concerns from light metal chemical waste product concerns.
Black Chrome Mil-C-14538
Provides chrome corrosion protection, with a dark appearance.
Flash and Hard Chrome
This is a thin, dense chrome that is hard (Rc78) and was developed to provide protection against corrosion and wear. Some processes are proprietary and trademarked such as Armology TDC.
Show Chrome
Automotive chrome for show or museum quality. Used for part restoration, with a highly polished surface.
Electroless Nickel AMS-C-26074
Plates uniformly in recesses and cavities. Does not build up on edges. Specified by thickness and process. Similar appearance to stainless steel.
Nickel QQ-N-290
Class 1 is for corrosion resistance and decorative purpose. Class 2 is used for enhanced wear and abrasion resistance. Used to build up worn or undersized parts and for protection against corrosive chemical environments.
Black Oxide Mil-DTL-13924
Provides mild corrosion resistance, and aids in minimizing light reflection. This process is supplemented with impregnated oil or wax. It gives a familiar gun blue finish as a subset of this process.
Phosphate, Light TT-C00490, Heavy Mil-P-16232
Light TT is primarily used prior to paint. Heavy Mil-P has two varieties: Manganese (M) and Zinc (Z). The M type is more resistant to alkaline environments, with moderate corrosion and wear. The Z type is for up to 200 Degree F applications, and prevents galling with good corrosion resistance.
Other
Many others are available, such as tin, copper, vacuum aluminum, vacuum cadmium, rhodium, silver, and gold.
Gold Plated, Phosphor Bronze base electrical contact pin.
Note: All chemicals processed should be reviewed to see if the steels are susceptible to a condition involving hydrogen embrittlement. This is a mode of material failure that is common when hardened materials as subjected to a hydrogen based acid in a chemical process. Special processes should be noted in a print or specification to prevent this condition. This usually involves an additional heating step, commonly called a "bakeout," to be performed immediately after the chemical exposure.
Common Processes for Stainless Steel Alloys – Etch Based
Passivation ASTM-A-967, ASTM-F86 (Medical)
An etching process designed to remove foreign metals from the surface of stainless steel. Designed to promote corrosion protection.
Electropolish ASTM-B-912
An electrical etching process similar to passivation but more aggressive, creating a uniform polished finish. May be used on all stainless steels, carbon steel, titanium, aluminum, copper, nickel alloys, nitinol, tungsten and other specialty alloys.
Common Processes for all Materials – Paint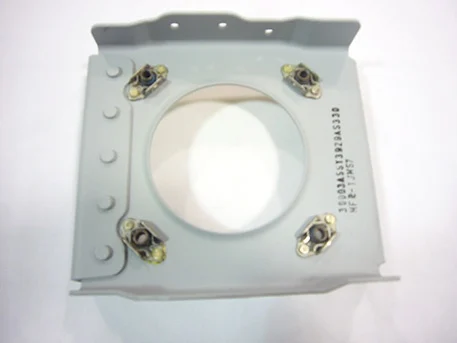 Primed Mil-PRF-23377 and Assembled Aluminum Bracket
Pretreatment TT-C-490 DOD-P-15328
Pretreatments may be blast- or wash-primer cleaning, or some type of coating such as chemical film. Special magnesium coatings are available as well, such as Dow #1, #7, #9 or #17.
Primer Mil-P-53022, Mil-DTL-53022, Mil-DTL-53084, Mil-PRF-23377
Primers for epoxy and e-coat primer are very common and supply excellent protection.
Top Coats Mil-DTL-53039, Mil-PRF-22750, Mil-C-14105
Some of the options for top color coats can be epoxy based CARC or special whites, as well as heat resistant blacks.
Silkscreen, Laser Marking, Dry Film Lubrication
These are typically specification based or have manufacturing instructions.
This only touches on some of the more common coating and finishing options that we have available. For more information on these or other options, please contact please contact Doug Wetzel or any of the Protomatic Sales staff.
For a complete review of things to look for in choosing a CNC machine shop, please download the free guide, Tips for Choosing a Prototyping Machine Shop.

About the author: Doug Wetzel is Vice President and General Manager of Protomatic. Protomatic is a CNC precision machining shop specializing in prototype and short-run production components for the medical, aerospace and other technical industries. Because of the critical nature of the parts they design and manufacture, the emphasis is always on Life-Saving Precision.