The Protomatic Perspective on Covid-19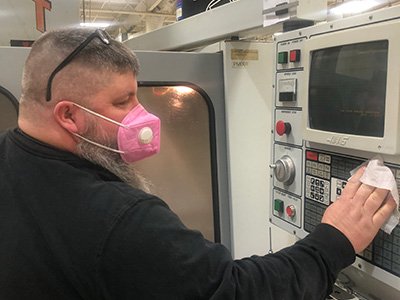 It seems as though bad news comes in waves, and Covid-19 is now in Wave 5. While there appears to be light at the end of the tunnel, the effect that Covid is having on our industry is still significant. Following are some of the areas Covid is impacting, and how Protomatic is dealing with it.
Covid and Raw Materials
In many cases, the distributors in the raw material supply chain have depleted much of their inventory. The good news? Common alloy aluminum, steel, and plastics are not a concern, and for the most part, are available. The not-so-good? Lead times for common materials are no longer 1-2 days, but 1-2 weeks (however, the material is available). Some of the nickel-based stainless steels like Inconel™, and red metals (copper alloys), such as oxygen-free copper (CA101) and tellurium copper (CA144) do have long lead times, so it is important to order in advance and expect a 3-4 month backorder. Refractories like Tungsten, Tantalum, Niobium, etc. are always hit and miss.
Protomatic can find many alloys through extensive searches with a list of manufacturers and qualified distributors that specialize in the more specialized alloys. Yes, we are working harder, and lead times are getting longer, but for the large part, these materials are available with some delays. Recognizing this, we have increased searching and increased our buffer stock for some harder to acquire raw materials. But, please be patient and help us by ordering early.
The Impact on Manufacturing and Inspection Personnel
Protection of employees is paramount during cold and flu season. Now, it is more important than ever. Protecting our employees is probably the most critical element in providing customer support and on-time delivery. Following is what we're doing in that regard.
Most of our manufacturing areas are very well separated, with at least 15 ft of separation. But in labs and common areas, where we cannot be separated by at least 6 ft, mask PPE is heavily used, as well as bleach-sanitizing solutions for surfaces. Periodic wipe downs of machine keyboards, minimized contact, and minimized exposure with the use of spray fogging also play an important role. The spray fogging machine is used for large manufacturing areas and offices after hours. This equipment sprays a fine mist of sanitizer and is effective in minimizing virus transmittal. Recently added in the larger office spaces are stand-alone air filters. They are HEPA-based and use ultraviolet light sources (UV-C) and ionizers designed to kill viruses.
Finishing Operations, Flowdown, and Covid
When we do outsource operations, it is typically due to requiring specialized equipment or environmental regulations. This is a definite wild card. Working with our suppliers, we confirm their status regarding Covid prior to work being sent. Jobs have been removed from suppliers due to their Covid-19 status and alternate suppliers have been used. Good suppliers are particularly hard to find in areas of grinding, anodizing, heat treat, plating, and painting. But Protomatic is in contact daily with the critical suppliers, making sure we can optimize delivery.
Giving New Meaning to Life-Saving Precision
Protomatic has long been known for the Life-Saving Precision we bring to every component we manufacture. We're obsessive about it. Now, that same dedication is being focused on protecting our employees and finding suppliers who do things the right way to beat back Covid and minimize materials and delivery delays. Thanks for the customer support during this time of supply chain disruptions.

About the author: Doug Wetzel is Vice President and General Manager of Protomatic. Protomatic is a CNC precision machining shop specializing in prototype and short-run production components for the medical, aerospace and other technical industries. Because of the critical nature of the parts they design and manufacture, the emphasis is always on Life-Saving Precision.